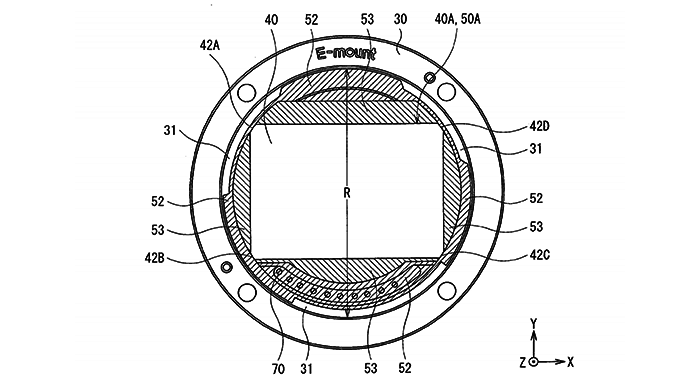 If you wonder what's Sony's reasoning behind the E-mount construction just read the recently published United States Patent 9392150 (Click here). It describes in detail the elements and details of the E-mount and what the advantages are. The text is quite complicated to read but in very short this is what Sony writes:
In recent years, in the foregoing small-sized camera, more impressive and advanced expressiveness, in which a subject is sharpened with a blurry background has been pursued as in a camera using 35 mm film (screen size: about 36 mm×about 24 mm).

According to the camera and the optical apparatus according to the embodiments of the present disclosure, the large-sized solid-state image pickup device having the rectangle light receiving section with a diagonal line length of about 43 millimeters or more is mounted on the body mount having an inside diameter smaller than about 48 millimeters, and the apparent shape of the solid-state image pickup device viewed from the front surface side of the body mount is a rectangle in which one or more corners are oblique. Therefore, even if the size is small, high image quality is obtainable.