You are browsing the archive for news Archives - Page 2 of 606 - sonyalpharumors.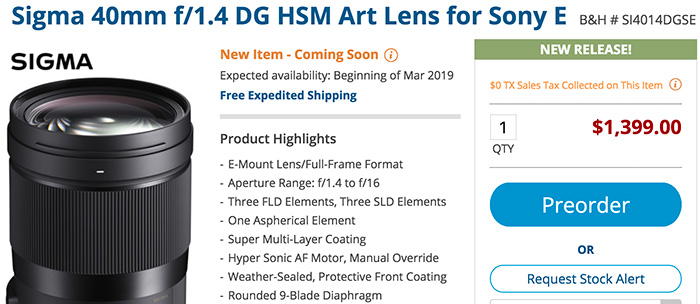 Today Sigma Japan issued a statement to confirm the shipping start date. The lens was originally scheduled to start shipping in January but it got a two month launch delay.
Sigma 40mm f/1.4 FE lens at Adorama, FocusCamera and BHphoto.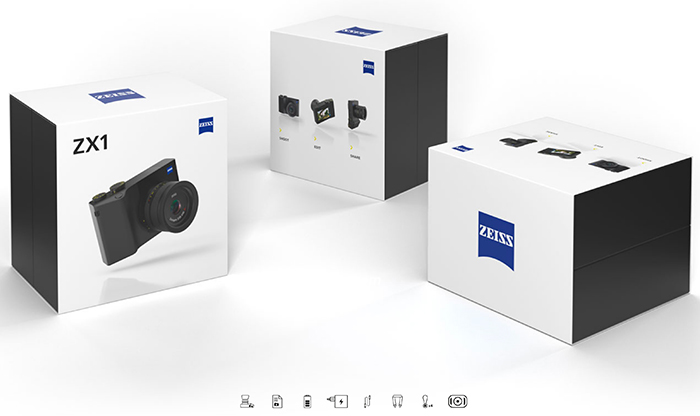 We might will get some update from Zeiss at the upcoming WPPI show in late February. Maybe my feelings are wrong but I think the ZX1 is the real RX1rII successor and Sony will no more release a new RX1 camera?
UPDATE: Sorry, this picture of the Zeiss ZX1 box has been posted months ago and not recently as first written. Sorry for the mistake, I haven't noticed the box picture before.
Zeiss ZX1 specs at a glance (via BHphoto):
37.4MP Full-Frame CMOS Sensor
ZEISS Distagon T* 35mm f/2 Lens
Leaf Shutter and Physical Exposure Dials
0.74x Full HD OLED Electronic Viewfinder
4.34″ Touchscreen LCD with Tool Bar
ISO 80-51200, 3 fps Continuous Shooting
Integrated Adobe Photoshop Lightroom CC
Built-In Wi-Fi and Bluetooth
Internal 512GB SSD Storage
USB Type-C Terminal
Today's new Canon RP camera is making big headlines because it costs just $1299. The hype is big on the Internet and it's time to make a step back and cool down. Is the RP really a game changer? Sonymirrorlessspro pointed out that Sony has a better option to offer: The Sony A7II currently sells for even less money ($998 at Amazon) and has specs that still beat the Canon:
– First of all the 2014 Sony A7II sensor is still better than the one used by the new Canon RP
– The A7II camera has in body stabilization
– Video quality is way better too (yes the Canon has 4K but it sucks becuase of crop mode, rolling shutter and no PDAF)

Of course the Canon can strike some advantages too (better AF ins stills mode and Vari Angle LCD). But as a whole the Sony A7II still tops the new Canon ESO-RP in terms of price-performance balance.
Sonymirrorlesspro writes:
It took Canon 8 years to almost match a spec Sony released 5 years ago. Again, I completely understand brand loyalty and the complexities of switching, but as a photographer who's heard all the reasons to not shoot with mirrorless and red herrings like "color science," I say Sony's competition has not yet stepped up.

Not even close.
Don't get me wrong, the Canon EOS-RP is a good camera and probably a better choice than their first EOS-R. I do think Canon marketing made a good strike on this one. But at the end of the day not the headlines…but the footnotes matter :)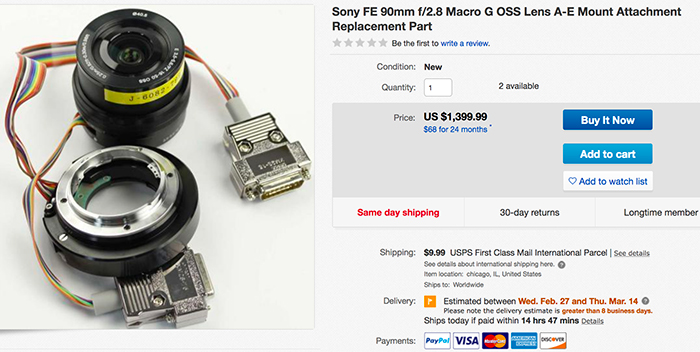 One of our SAR readers sent me this eBay auction link. We cannot fogure out what this thing is. You have any idea?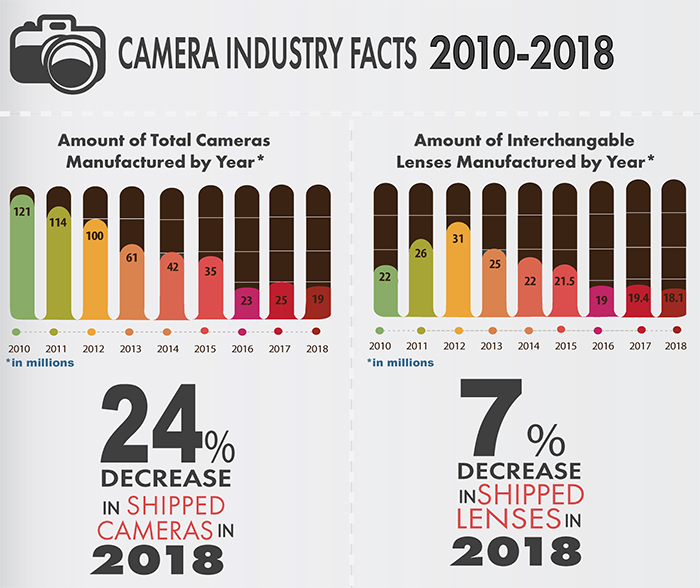 Lensvid collected all the 2018 CIPA data to give us a detailed view of the camera market:
The bottom line is very bad though. We are below 20 million units per year and mirrorless cameras don't gain as much traction as you might think (2% increase per year vs. 12% decrease in DSLR). For the first time, interchangeable lens cameras surpassed the sales of compact cameras (not surprising, to be honest). If you look at the entire decade you see an unbelievable drop of 84% from 2010 to 2018 in the number of cameras sold/made per year.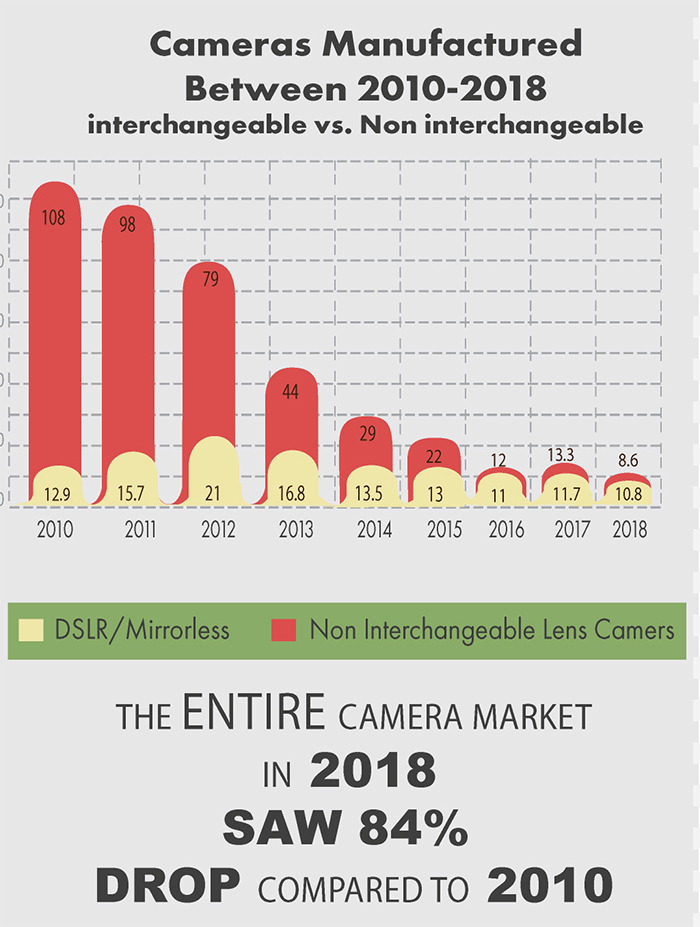 The lens market is also going down (except interestingly in the Americas where you have a small increase). Maybe the most important thing and something that we have been looking at for the first time is prices (it isn't a direct number – CIPA gives the number of cameras/lenses and the amount of money these products were sold for – but it is not clear sold to whom – since the manufacturers do not sell directly to people and there are sometimes a lot of middle man in between).

Anyway – for what it is worth we see a trend which we already know of in the numbers – in 2018 fewer cameras were sold but for more money, it is even more obvious in lenses – the companies reported more money coming in from lenses in 2018 than in 2017 despite selling fewer lenses so you can do the math on what this means for lens camera/lens pricing and what will probably happen if the market will continue to shrink in 2019…
Click on this image to see the full size infographic: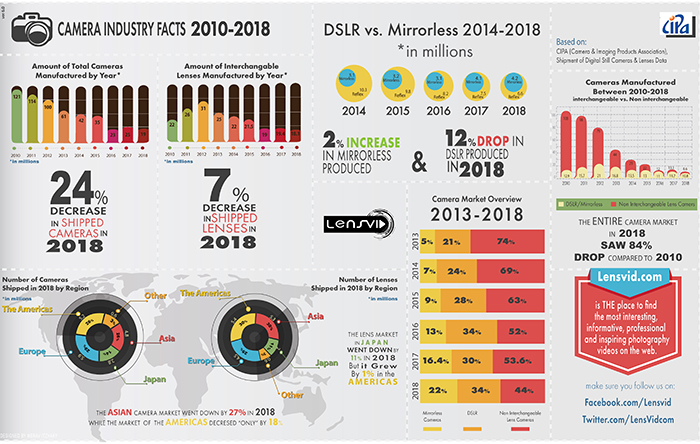 Full article on Lensvid.com!
The only slightly good news is that Sony is one of the few camera manufacturers still making profit in this business…