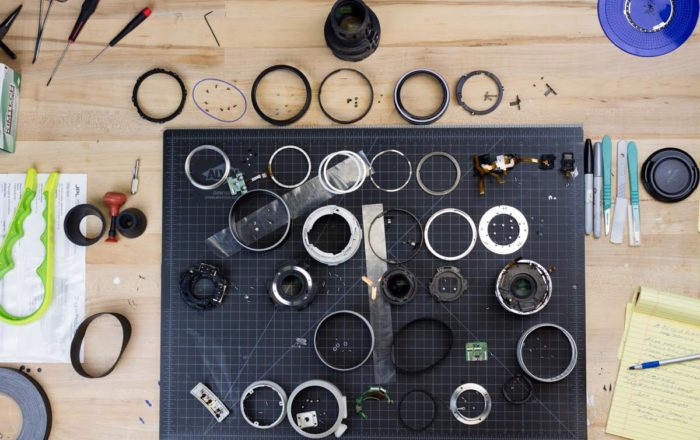 This is how the 70-200mm GM looks in pieces
Lensrentals dismantled the Sony 70-200mm FE GM lens and those are their findings:
The Sony 70-200mm f/2.8 GM has a lot of solid construction with heavy metal barrels and proper weather sealing.
The rollers, cams, and screws seem appropriate for what they do. They aren't over-engineered by any means, but certainly adequate.
The lens is designed to take apart in the middle. That's really different for a 70-200 f/2.8, but we've seen some super telephoto lenses that are similar. I doubt it's going to break in half if you drop it. Or more to the point, if you drop it hard enough to break it in half, other stuff would be breaking too.
There's a lot of impressive engineering in here, but not what we (from a take-it-apart perspective) would call elegant. It looks similar to a Nikon design, which isn't a bad thing, Nikon makes lots of great lenses. That are a pain to work on. Pain to work on often (but not always) translates into expensive to repair.
Photographyblog reviewed the lens and the conclusion is:
The Sony FE 70-200mm F2.8 GM OSS is an oustanding telephoto zoom lens for Sony's full-frame compact system cameras, although there's a high price to pay for such quality. It delivers outstanding sharpness in the centre of the frame almost throughout its entire aperture and zoom range, also performing very well wide-open at f/2.8, although you'll need to stop down to f/4 to get similar quality at the edges of the frame. The Sony FE 70-200mm F2.8 GM OSS lens offers very fast and reliable auto-focusing on the A7R II camera that we tested it with, plus intuitive manual focusing, lovely bokeh, built-in 5-axis image stabilisation and stellar build quality – it's even usefully weather-tight too. The only real downsides are that sky-high asking price and the very large size and weight, although both are typical of an f/2.8 full-frame lens like this. If you need the best telephoto zoom for Sony full-frame mirrorless cameras, we'd definitely recommend the new Sony FE 70-200mm F2.8 GM OSS lens.