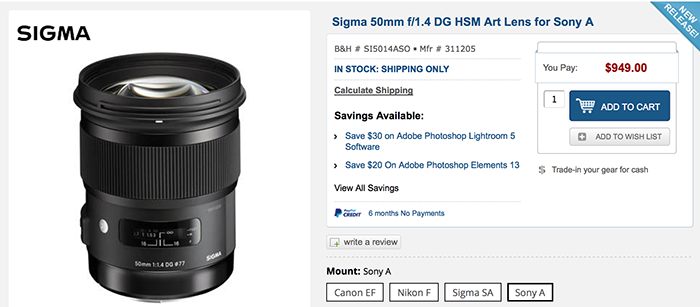 Their current superb 50mm f/1.4 ART lens may come in a more compact FE version!
Good news folks! For the very first time Sigma said that the development of lenses for the Sony FE system is now one of their priorities. Kazuto Yamaki, CEO of Sigma said this in an interview with Dpreview. In detail those are the interesting points related to Sony:
1) Question: Is it difficult to correct for certain formats like Sony's full-frame Alpha series which have very short flange-back distances? Is that one of the reasons why we're not seeing Sigma lenses for those systems?
Answer: No – we want to increase our lineup for mirrorless cameras, but it's just a matter of priorities.
2) Question: Can you give us an idea of your current priorities?
Answer: DSLRs first, particularly Canon and Nikon, since most of our customers use those systems. And after that mirrorless. Sony FE-mount.
3) Question: A lens like Sony's Zeiss 55mm F1.8 for the FE mount is optically superb but quite small and light. If you were to design 'Art' lenses for that system, would you try to strike a different balance between quality and size, and try to make the lenses smaller?
Answer: Yes – that's also one of the segments we're interested in. Another motivation for us to make new lenses is to differentiate between other manufacturers. Sony already has a 55mm F1.8 which is nicely sized and reasonably priced, so why make another? But F1.4 compared to F1.8 is a huge difference, so we'd either make a F1.4, or something different.
That's great news! We really need a lot more FE lenses and Sigma has proven it can do high quality lenses without to charge too much for them. Sigma also said their ART lenses can resolve 50MP+ FF sensors. Can't wait to see their FE Art lenses!
P.S:: Superb Sigma 50mm f/1.4 ART lens is now in Stock in USA via Amazon (Click here), BHphoto (Click here).