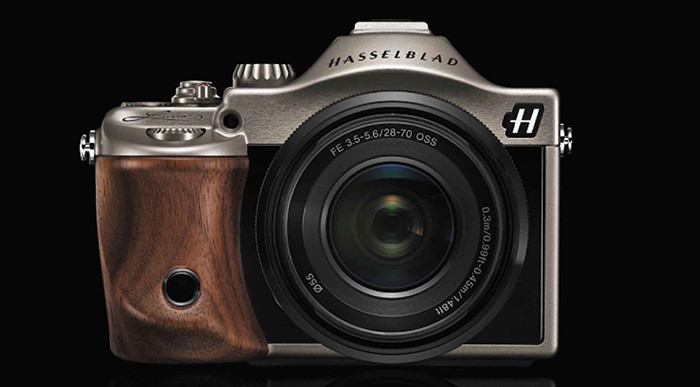 Hasselblad just issued that press release to announce their latest SonyA 7r clone, the Hasselblad "Lusso":
Press text:
The iconic Swedish camera maker Hasselblad, whose legendary 500EL was used by Neil Armstrong to capture the first images of the moon's surface, has been in the market for lifestyle cameras since 2013, first with the Hasselblad Lunar, followed by Hasselblad Stellar and Stellar II.
The new Hasselblad Lusso E-mount mirrorless camera, featuring an impressive 36.8 megapixel 35mm full frame CMOS image sensor, brings the company's strategy of offering consumers a symbiosis of elegant lifestyle, user convenience and state-of-the-art technology to a new climax.
The camera comes with a FE 28-70mm f/3.5-5.6 OSS lens. For its handgrip, a rich walnut Canaletto wood was selected not only for its strength but also for its warm essence. A matt finish obtained after a lacquering process retains the natural veins of this beautiful wood.
The Hasselblad Lusso, is a strikingly beautiful camera that will enthrall its owners not only by its beautiful aesthetics but also by its technical features and performance.
The Hasselblad Lusso will only be available at Lane Crawford and in selected camera stores in Hong Kong, Macau and China.
found via Digitalrev.
Current Hasselblad Sony clones are:
Stellar (Click here), Lunar (Click here) and Hasselblad HV ($7,999 off on BH!).