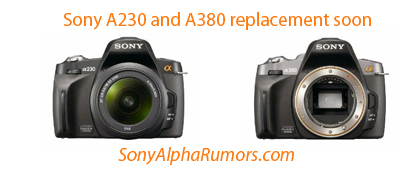 According to many different sources Sony is not only ready to launch the new NEX mirrorless cameras. Two new entry level Alphas will be announced in June-July. One model should be the A290 the other model the A390(?). According to one source the cameras will not use the enw EXmor HD sensor.
The Sony Alpha A230
and the Sony Alpha A380
have been announced in May 2009.
The new Adobe CS5 suite is now shipping! On photoshopuser.com/cs5 you can see a very well done list of the new features.
USA:
Adobe CS5 suite on Adobe US
/ Amazon
/ BHphoto / Amazon Canada
Europe:
Direct links to the pre-order page on Adobe UK
/ Adobe Deutschland
/ Adobe France
/ Amazon Deutschland
/ Amazon UK
/ Amazon France
Asia:
Amazon Japan
Just received a tip from a known source:
mirrorless camera's price range in korea:
- (NEX3+lens) 600,000 (Korea won, $540)
- (NEX5+lens) 700,000 (korea won, $610)
the lens can be the 18-55mm or the 16mm lens (your choice!)
As I told you that's cheaper than Micro Four Thirds cameras
!
I have been asked by many of you to try to get some info about the autofocus speed. I asked around and the answer I got is that the contrast autofocus is very fast. At least as fast as the Panasonic GH1
/ GF1
autofocus. But we will have to wait until the official NEX release to be sure of that.
Another question was how many frames per second both cameras do have.
A first rumor I recieved says that the NEX3 will have 5fps and the NEX5 7fps. But I still need to doublecheck that news.
Thanks!