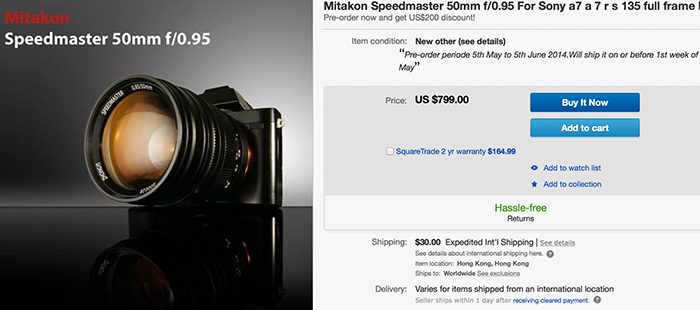 You can now buy the brand new and terrific fast Mitakon 50mm f/0.95 Full Frame E-mount lens on Mitakon's official MXcamera eBay store (Click here). Buying through that link will give you full PayPal guarantee. And the lens ships worldwide with the exceptions of Argentina, Brazil, Chile, Peru, Kazakhstan, Qatar, Yemen, Mexico, Latvia, Monaco, Ukraine. Ukraine I cna undertsand but why not Brazil? 🙂
This is a hell of a fats lens which costs 14 times less than the Leica Nocticlux 50mm f/0.95. Of course you cannot expect the Leica quality but first full size images on Flickr (Click here) do look good to me.
The Lens will ship the first week of June. So preorder now at MXcamera eBay store (Click here).