Canon EOS-R officially announced: Claims to have world's fastest autofocus system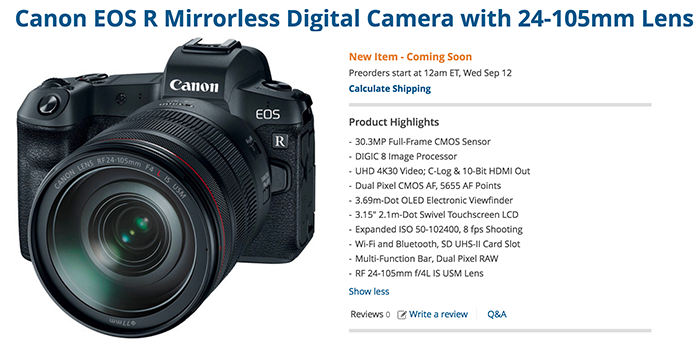 Canon finally announced their first Full Frame mirrorless Canon EOS-R camera (live coverage on CanonWatch). And unlike Nikon there seems to be some clear outstanding feature. For me this mainly the new autofocus system. It has over 5.000 points, works down to EF-6 and Canon claims it's the fastest autofocus system of the world. This bundled together with their reliable Dual Pixel AF and the fully articulated screen makes it a killer camera for filmmakers and youtubers. It certainly will have a hard time to keep up with the Sony stills quality.
What we have to see if the real tests lives up to the hype. And first issue have been already reported by ThePhoBlographer:
In our very brief tests so far, I have to admit that the focusing on the Canon EOS R is very good. This statement applies to working with the native lenses and those adapted. With linear autofocus though, a few problems can occur.
Filmmkaer Phillip Bloom seems to be very disappointed:
For me this camera isn't a revolution at all. Canon are playing catch up and with these specs they are far behind the competition, as in Sony and even the new Nikons.
I am going to sum up the PROS and CONS based on technical specs. Of course this list may change after factual tests:
Canon PROS:
– World's fastest autofocus
– Full compatibility with existing EF lenses
– A cool adapter with drop-in filter (see this cool video by Caleb Pike)
– The new EOS-R lenses are focus by wire and have an extra customizable ring
– The new EOS-R lenses are stunning (50mm f/1.2 and 28-70mm f/2.0)
– It has 10 bit 4:2:2 output just like the Nikon Z
–$2299* for the body only. It will also be sold as a body-and-lens kit with the new RF 24-105mm F4 L IS USM lens for $3399*.
Canon CONS:
– lack of IBIS
– single slot card
– Low battery life: 350 shots
– The EOS R does have eye-AF but only S-AF. (info via Jordan Drake)
– It uses the same "Old" 30MP sensor from the 5D IV (with more phase detection pixels added)
– The cool lenses are expensive: RF 50mm f/1.2L at $2,299, the RF 28-70mm f/2L at $2,999
– Roadmap doesn't disclose what lenses we can expect
– The dial on the left is just an ON-OFF button
– Canon will not be opening up the RF mount specs to third parties (info via Jordan Drake)
– No AF-C in continuous high drive (slower FPS compared to Sony cameras)
– Still a huge ass crop in 4K recording (1.7 crop). Looks the same as 5D IV. Heavy rolling shutter as well. (info via Jordan Drake)
– 1080p does 60fps and not 120fps
– 34 RAW buffer only
– no compatibility with their EOS-M lenses
Some more images from the camera and lenses.