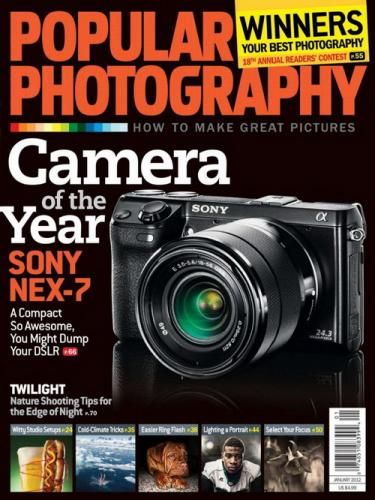 Popular photography magazine named the Sony NEX-7 camera of the year in their January 2012 issue. And they posted the full review online at Popphoto (Click here): "Sony's NEX-7 is currently our pick for the best ILC on the market. It combines outstanding image quality with solid ergonomics and, in addition to the normal array of preset shooting modes, plenty of useful options. When we tested Sony's first NEX cameras, we weren't very impressed. Now, we definitely are, and we're eagerly awaiting whatever Sony has up its sleeve next."
The french website Clubic (Click here to read the google translation) tested the NEX-7. The NEX-7 is a superb cameras but the reviewer would have preferred the same NEX-5n sensor inside the camera. The real weakness is the kit lens that is not good enough for the high resolution 24 Megapxiel sensor.
Luminous Landscape (Click here) posted a new Legacy Wide Angle Lenses NEX-7 / NEX-5n Comparison: "There is significant lens cast visible with the NEX-7 and some legacy lenses, and it isn't minor. The reason for it is that the 24 Megapixel sensor has smaller photo sites, and oblique light rays, especially those from wide angle lens (more on this in a moment), show a magenta colour shift. The 5n has larger sensels and also a different microlens layout than the 7, making it much less problematic with some legacy lenses."
They tested three lenses:
1) Voigtländer Ultra Wide-Heliar 12mm f/5.6 (Click here to see the lens specs and price on eBay).
2) Sigma 8-16mm f/4.5–f/5.6 DC HSM (Click here to see the lens specs and price on eBay).
3) Leica Wide Tri-Elmar 16-18-21mm (Click here to see the lens specs and price on eBay).
There is still no official news about when the camera will be in Stock. The last info I got said it's coming in February. You can look for NEX-7 preorders at Amazon, B&H, Adorama, eBay. What is in Stock (or will be this week) is the amazing Zeiss 24mm lens: Amazon, B&H, Adorama, eBay.