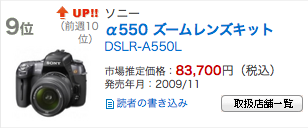 The Sony A550 is selling quite well in Japan and was able to reach position 9 at the weekly DSLR japanese sales rankings: http://bcnranking.jp/category/subcategory_0008.html. The Sony A550 is the only Sony camera in the top 10. Where Nikon and Cameras are the kings.
—
Amazon US: Sony A550 (Body Only) for $899.

Amazon US: Sony A550 Camera with 18-55mm Lens for $899.