Clear statement about the A6xxx and A7x rumors.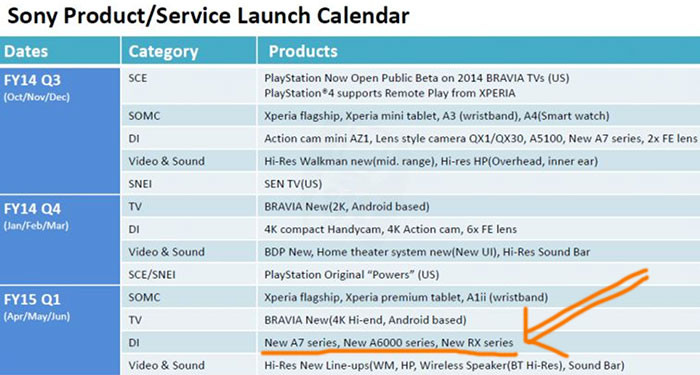 The leaked Sony roadmap at Wikileaks.
Lately we got confusing info about the possible new Sony camera announcement date. And I have to say that's quite the weirdest rumor time I ever had. So I want to be 100% clear with you:
1) Many of my best sources confirmed those cameras are coming for real.
2) Particularly the A6xxx should already have been announced but one highly trusted source told me Sony had to delay it because of "last moment" discovered issue.
3) I have plenty of top stores managers telling me that they got info from Sony about the A7rII and A6xxx launch a while ago (starting from March).
4) Latest I got from one trusted source and one major store manager is that Sony told them there is an announcement within end of May.
All those info are from sources who shared correct info on the past. This leaves us with two options:
1) Either ALL those trusted sources and Sony reps went mad….or
2) ….Sony is struggling with the exact A7rII and A6xxx launch date release (for reasons I still have to learn about).
I now kindly ask my old good time sources to help me out to solve the "announcement date" mystery. And I ask my readers to forgive us for that confusing time. Sometimes rumors are highly reliable, sometimes not and sometimes they change in between (as it seems to be in that case).
I will now do my best and take as much time and resources as it gets to finally receive 100% solid info on when those cams will be announced. Wish me luck :)
Andrea
UPDATE: Already receiving first feedback from trusted source. Thanks a lot!