Cosina announces the pricing and shipment date of their three new FE lenses! First video with the 10mm lens!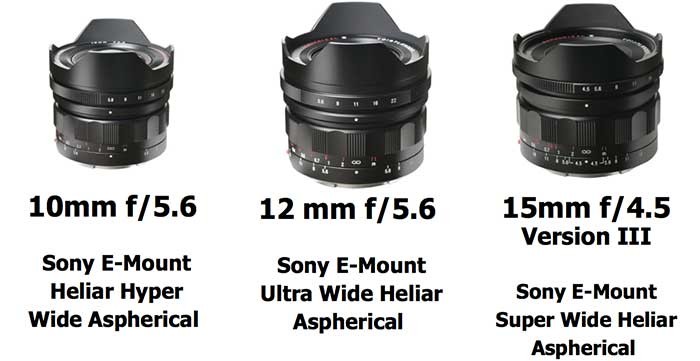 Cosina Japan finally released the official price info (in Yen only) and shipment dates of the new FE lenses:
15mm f/4.5 will be released in April and cost 115,000 YEN (at current conversion this corresponds to $1,000)
10mm f/5.6 will be released in May and cost 155,000 YEN (at current conversion this corresponds to $1,380)
12mm f/5.6 will be released in August (price not revealed yet)
Actual selling prices will tend to be below the list prices given in the press releases. Full lens spec sheets can be found at voigtlaender.com/e-mount.html. Newsshooter posted thw world's first video shot on the 10mm E-mount lens:
At CP+ in Japan, Voigtlander have shown the World's widest rectilinear full frame lens, the Heliar Hyper Wide 10mm F5.6 Aspherical. The lens is available in Sony E-mount and features CPU integration that allows manual focus assist, focus distance information, lens correction data and support for five-axis image stabilisation to be passed through to the camera
Newsshooter at CP+ 2016: Voigtlander announce the World's first rectilinear 10mm F5.6 lens for full frame from Dan Chung on Vimeo.
–
found via Digicameinfo.