Double Sony press events: on May 31 (no E-mount gear) and June 5/6 (with new E-mount gear)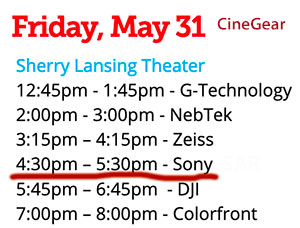 Folks we have two Sony press events ahead of us:
May 31 event:
Sony will have a press event at the Cinegear show. But I  think there will be no new E-mount gear announced on that event. Seems like Sony's focus is on their classic camcorder business and Venice ecosystem.
Don't think there will be a video livestream for that. But if there is one I will post it on SAR
June 5/6 event:
With 100% certainty we will get one (or more?) new E-mount products. I should get some more details about what to expect in the next hours. I am 90% certain there will be no A9II or A7sIII announcement on that event.
There should be a live stream and I will embed it on SAR.