First time in Stock: The new special design Voigtlander Heliar for the Sony A7!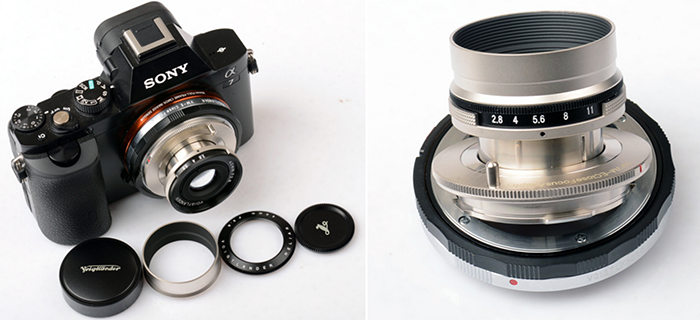 [/shoplink]
The brand new New Voigtlander Aspherical 40mm f/2.8 40/2.8 Heliar is in Stock for the first time at [shoplink 30081 ebay]CameraQuest one eBay (Click here)[/shoplink]. This is a very unique lens made specially for the Sony A7 series (obviously it works on APS-C E-mount camera too). And you need to buy the [shoplink 30082 ebay]VM-E Close Focus Adapter Required (here one Bay)[/shoplink] to make it work!
As Voigtlander writes: "The Heliar 40mm F2.8 is manufactured only for the purpose of using this lens onto E-mount camera body via VM-E Close Focus Adapter. You can not do focusing when you mount this lens via adapters not designed with built-in focusing-function or M-mount camera body directly."
So why is this lens interesting on the A7? Because it is very compact thanks to the collapsible desing.Because it's well-built and has a nice handling and should give you an "analogic" (old-look) image rendering. I like it :)
UPDATE: It's also in Stock at Fotomundus (via DL).