UPDATED: Official Sony Photokina page launched. 24mm to be announced tomorrow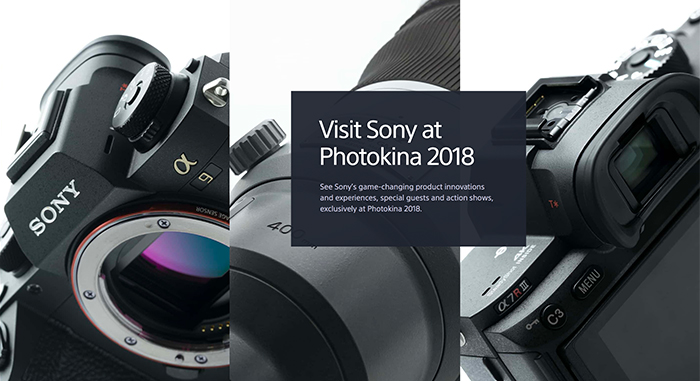 Sony did launch a special Photokina page (Click here to see it). They will have an official Press conference on September 25 at 10am Berlin time. But the new 24mm f/1.4 FE GM lens will be announced tomorrow on September 20. I have no idea yet if Sony will also announce a new High End ASP-C camera on Sept 25 or if they will only launch it in mid October. Mid October is "historically" when Sony does launch new cameras. For example the A7rIII and the A6500 have been announced in October.
So to sum up the rumors for tomorrow's announcement:
Confirmed: Sony 24mm f/1.4 GM
Will not to be announced tomorrow: 135mm GM or any new camera
But people present at the Sony event have been told they will nto have to wait a long time to see a new E-mount camera…
—
For potential SOURCES:
If you know "something" and want to share it anonymously please use the anonymous contact form on the top right of the sidebar. Please use a nickname so that I can recognize you in future messages. You can also contact me directly at sonyalpharumors@gmail.com. Use remailer.paranoici.org to send me an anonymous message if you prefer to do so.
For READERS:
To be sure to not miss any of the upcoming news do this:
Subscribe our RSS feed (Click here).
Join us on Facebook (Click here).
Follow us on Twitter (Click here).