Our 2020 rumors were right all along: Sony officially registered the "surprise" (RX?) camera that we told you would be announced soon!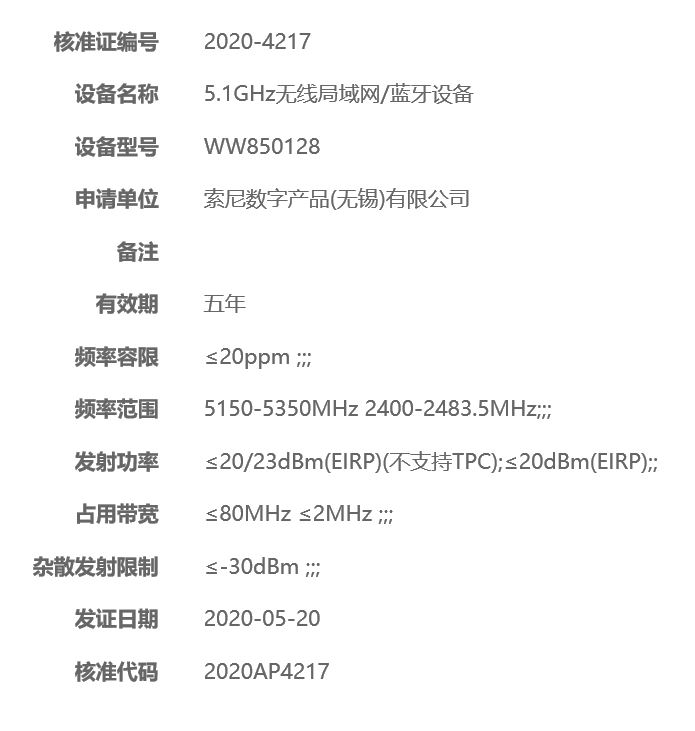 Today Sony officially registered a new camera model with 5.1GHz Wifi (via Nokishita). This means it's a high end model !!!
Our rumors are therefore confirmed!
We told you on May 15 that Sony plans to launch the A7sII successor and a "surprise" model in June (max early July). And indeed Sony has now registered a total of two camera featuring the 5.1Ghz module:
WW271448 (Sony Corporation of Japan and for)
WW850128 (Sony Digital Products (Wuxi) Co., Ltd, China)

UPDATE: The new High End camera might be an RX model because it has been registered by Sony China?
I got some early whispers about this "surprise" model but I need to dig more into it before I can share something with you. Anyway. it's going to be an exciting time on SAR and if you don't follow us on Twitter and Facebook you will be banned from SAR :)
–
So far in 2020 we have a very good track on our rumors:
May 18: We leaked the first ZV1 images
May 6: We reported first about the new ZV1 launch
April 17: We leaked the Samyang 75mm specs
April 3: We leaked the Tamron 70-180mm price and market release date.
February 17: We leaked the Sony 20mm FE specs
February 13: We leaked the first Sony 20mm FE info
February 7: We leaked the Prime lens rumor
Note: The timeline of Camera rumors posted before the Covid-19 outbreak did get shifted. So if there was a rumored FF E-mount camera launch at Cp+ or Photokina this would of course be postponed by up to 6 months.