Sony A900 officially discontinued!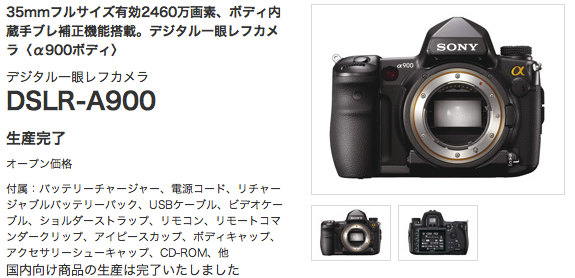 Good news folks! After the [shoplink 3028]Sony A850[/shoplink] also the [shoplink 3032]Sony A900[/shoplink] has been discontinued! Sony Japan (Click here to read the translation) confirmed that they finished the A900 camera production. Why is that good news? Because I have been told by top sources that this is happening because the A900 will now get some price drops and after that you will see the new ff camera.
In these last 10 days I worked on new FF, NEX and lens rumors. I thank the sources for their help and I thank your reader for your patience. It's a lot of work to get rumors and I also try to doublecheck the info I get to avoid big mistakes. And now it's time to open the new rumor season to see what's coming next. From what I know right now (and I haven't told you anything yet) there are only good news. Many good news!
Stay tuned on SAR!
P.S.: A900 in Store check: [shopcountry 3032].