Sony confirms AI autofocus is coming!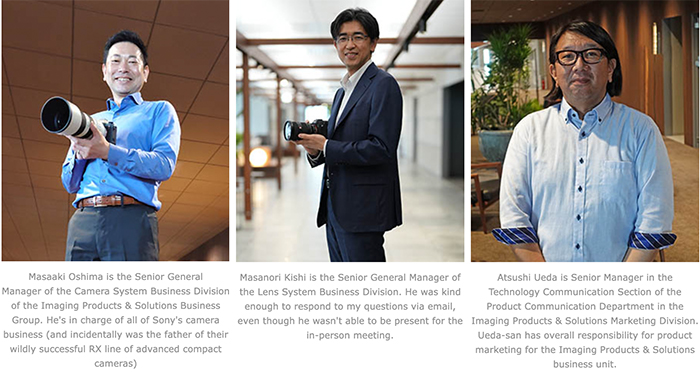 Imaging Resource just published an interview they had with Sony managers. The very clear takeaway is that Sony made it clear that AI autofocus is coming. And we know it's going to be first implemented on the Sony A7rV :)
Here is the summary via Asobinet:
Recent photo market situation
So far, the mirrorless market is growing even in this difficult situation.
Especially when it comes to still photography, it has been somewhat affected by COVID 19, but fortunately it leads the market.
As for video shooting, the demand for video shooting continues to increase even in the current situation, and we continue to lead in this market.
We expect this trend to continue and will not stop development.
Due to COVID 19, customers are no longer able to go out for photo shoots, so the demand for still photography is decreasing during this time. We believe that demand for still photography will return once people are able to go out.
In addition, video demand continues to grow, and we believe that the mirrorless market will continue to grow without shrinking.
Supply chain challenges
We are continuing to discuss with our business partners how we can minimize the impact.
Fortunately, we have managed to manage this difficult situation and have done our best to meet the needs of our customers and dealers.
From now on, we are discussing with our suppliers to ensure that the shipment from the factory to the dealers is in time, and we believe that the situation will improve.
It's had some impact in the past, but I'm not too worried about it now.
Globally, there was an impact (of product shortages), but the situation is improving.
Fortunately, the shutdown in China is also working out.
About the standing position of APS-C cameras and high-end cameras
In order to meet market demands, we believe that APS-C machines are also important.
The advantage of a one-mount camera is that the same lens can be used for both APS-C and full-frame cameras, and can be used by professionals, amateurs, and videographers alike.
We need to put more effort into the APS-C body, not just the full frame.
Unfortunately, we cannot go into detail about future products, but we also understand the market demand for APS-C models and have not stopped developing them.
Market demand is changing a little, not only for still cameras, but also for stills & movies, hybrid usage, and so on. For this reason, we must consider how to respond to both demands.
The ZV-E10 has been prepared for customers who want to enter the mirrorless world and start a "video life".
And if they feel that shooting is fun, I think they will consider upgrading their equipment next time. Then the APS-C high-end model may be an opportunity.
Compact cameras for advanced users like the RX series
(The person in charge of Sony being interviewed) is also the creator of the RX series.
Originally, he was the leader of the development of the RX100, RX1, and RX10. He likes the RX series and is still building the RX series.
I can't say anything about the future strategy, but I don't think I've quit the RX series yet.
The current model is still established as a product and is selling well. And many customers have new inquiries.
Sony's AF development, especially AIAF's general strategy
The image sensor, AI, and autofocus are of course completely different technologies, but they are combined and installed in the camera.
The most important improvement was scene recognition, ie, "What is this object?"
AF technology and AI technology are strong technologies that form our base, and we will continue to develop technology in this field.
Unfortunately, we can't announce the product yet, but there is no doubt that AIAF will announce more advanced technology in the future.
(Q: So that's definitely true…) Please look forward to it.
Learn more about the BIONZ XR processor
I can't give you the details, but by combining both chips and operating them as a system, the total performance is achieved.
For example, the BIONZ XR installed in the α1 can process a huge amount of data of 50 million pixels and 30 frames per second.
During continuous shooting, AF calculation is performed at 120fps.
BIONZ XR is more powerful and power efficient than previous chips. It is very difficult to comment on specific figures.
BIONZ XR has evolved video recording functions such as 4K 120p and 8K 30p in particular, along with real-time autofocus processing. Therefore, it is very powerful and energy efficient.
It also supports new color science and improves processing to improve color reproducibility.
Low noise, high dynamic range and high resolution for both still and video.
As we evolve the full size, we will also improve the performance of lower models in the future. The combination of Sony's unique image sensor and powerful processing engine "BIONZ XR" will provide a better shooting experience and a unique shooting experience.
Combining an image sensor unique to Sony, the number one manufacturer of image sensors, with its own processing engine "BIONZ XR" is an advantage.
About α1's ultra-high-speed mechanical shutter and electronic shutter
Flash sync speed is an area that has not evolved for many years.
We wanted to offer a new flash photography experience by using a newly developed dual drive shutter to capture momentary movement with flash.
This is part of the performance of the newly developed stacked CMOS sensor installed in the α1. Readout is extremely fast, and the ultra-high-speed processing performance of the BIONZ XR enables high-speed flash photography with an electronic shutter.
1/400 sec is mechanical shutter for full size, 1/500 sec for APS-C, but 1/200 sec for electronic shutter.
I will refrain from going into too much detail about the newly developed dual-drive shutter technology. By adopting an electronic actuator in addition to the conventional spring, it is possible to achieve a high-speed drive of 1/400 second, which was not possible in the past.
The use of carbon fiber for the blades of the shutter curtain contributes to the weight reduction and robustness of the mechanism.
With α1, there is a trade-off between still image and video image stabilization
There is no trade-off relationship between image stabilization for still images and video.
We understand that the needs for image stabilization for still images and video image stabilization are different, and we have prepared a correction method for each.
We received a lot of feedback about image stabilization, so we would like to continue to provide a unique shooting experience with image stabilization in the future.
About the new 24-70 and 70-200 F2.8 smaller and lighter
There were requests for higher image quality, smaller size and lighter weight, and improved AF speed and focus tracking.
Recently, customer needs have changed and diversified, and in particular, the need for video shooting has increased significantly.
In order to meet the needs of a wide range of customers, regardless of whether they are shooting still images or movies, we have developed a 2nd generation G Master zoom lens that is fully equipped with the latest technology, such as the main optical system and the floating focus design that uses Sony's unique XD linear motor. .
A breakthrough in optical design has been achieved through the fusion of the evolution of related technologies and the latest optical technology. Achieved a fusion of epoch-making performance, small size and light weight.
We would like to continue to accelerate the fusion of Sony's unique peripheral technology and optical technology.
About the optical design of the new 24-70mm F2.8
In order to achieve the smallest and lightest weight in its class, the optical design has been completely redesigned and five aspherical lenses, including two high-precision XA (Extreme aspherical) lenses, have been adopted.
In addition, 2 ED (ultra-low dispersion) glass and 2 super ED glass are used.
Combined with the new floating focus mechanism, it not only demonstrates excellent resolution across the entire zoom and aperture range, but also improves the shortest shooting distance.
In addition, during movie shooting, focus breathing is suppressed to achieve expressive focus movement, and the XD linear motor improves AF and tracking performance even during high frame rate recording.
It is compatible with the high-performance compact α system body and covers a wide range of shooting scenes.
The new 70-200mm F2.8 is completely different from the previous version
In order to achieve the world's lightest zoom, a new optical design reduces the number of lenses on the front of the lens, and ED aspherical lenses and XA lenses are used to reduce the number of lenses overall, contributing to weight reduction.
Super ED glass and ED glass are placed at key points to thoroughly suppress chromatic aberration.
Equipped with four XD linear motors using Sony's proprietary control technology, the AF speed is increased up to four times compared to conventional models with high thrust efficiency.
About the future lineup
I can't comment on the strategy for the future lens lineup, but Sony is always listening to the voices of its customers.
Sony has continued to develop its lens lineup based on feedback from users around the world, including professionals who are active on the front lines, and has achieved a lineup of 70 E-mount lenses.
I can't comment on the future lens roadmap, but I have a lot of ideas for new lenses that I would like to release in the future. Please look forward to it.