Sony Eye tracking AF coming in 2014?
[shoplink 16520 ebay]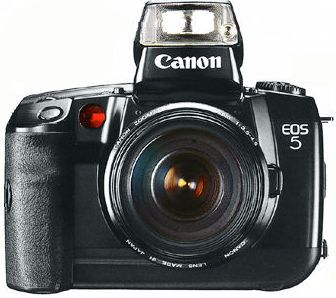 [/shoplink]
The [shoplink 16520 ebay]Canon EOS-5 A2(E) had Eye Tracking AF[/shoplink].
Yesterday I told you about the new three layer technology that will may appear in 2014. And so will the new Full Frame Mirrorless. The next key tech that may appear in this crucial year is Eye Tracking AF:
Sony is considering to implement that feature on their upcoming Flagship in 2014. They call it "Eye controlled Focus System". This feature of the camera will track objects using some infrared sensors in the viewfinder following the eye movement. The advantage is the rapid change/move of focus points (e.g. from the middle to the border). The biggest disadvantage is that You will have to calibrate Your eye for this to work properly. Also this will only work using the viewfinder, it will not work using LiveView on the display. The feature can be enabled/disabled and will have a memory (calibration data) for 3 users. If or when this really comes in the final product, is uncertain. It will depend on the further development in 2013, but will be the absolute burner. Tests are promising, but the implementation might be to expensive for midrange products. We'll see.
Note: this is not a new feature. It was in a real product from Canon – the [shoplink 16520 ebay]EOS-5 A2(E) – built until 2000 (here on eBay)[/shoplink]. Can You see the similarities to the SLT technology?!? ;-))  Maybe Sony will be able to solve all problems and flaws and make this feature available for the "digital" photographic world.

Loading ...
Special Thanks to the anonymous source for this! Hope to hear more from you in future :)
One more thing: What is the "Flagship 2014"? :)