Sony maintains a 60% share of the world market with the introduction of the new sensor technology "Octa PD"
The Nikkei newspaper has an article about Sony Semiconductor's sensor strategy. This is the Google translated text via Digicameinfo:
Sony maintains "60% global market share" image sensor with new technology (Nikkei newspaper)
The Sony Group will further enhance the functionality of image sensors used in smartphone cameras and other devices. We will realize a technology that simultaneously focuses on bright and dark objects, which was difficult in the past.
The world's top market share has dropped to about 40% due to the loss of customers due to the US-China conflict and the catch-up of Samsung Electronics of South Korea. By digging deeper into the technology, we will adhere to the conventional target of 60% global market share in 2025 and dodge the pursuit of competitors.
Sony Semiconductor Solutions, which is in charge of the semiconductor business under the Sony Group, released a new technology called "Octa PD" to the press on the 17th. You can focus at high speed in any scene such as bright or dark places. In the past, it was difficult for smartphone cameras to focus on bright and dark objects at the same time.
Reference: Sony's "All Pixel Autofocus (AF)" technology (Sony Semiconductor)
"Octa PD" is a technology that multiplies "Dual PD" with sensors in the Quad Bayer array. This method is suitable for large sensors that can achieve the excellent AF performance of all-pixel AF while maintaining the "high sensitivity" and "HDR compatibility" that are the features of Quad Bayer.
In particular, Octa PD is unique in that it can acquire phase differences in all pixels of long exposure, medium exposure, and short exposure during HDR operation, and realizes high-speed AF operation regardless of the brightness of the subject.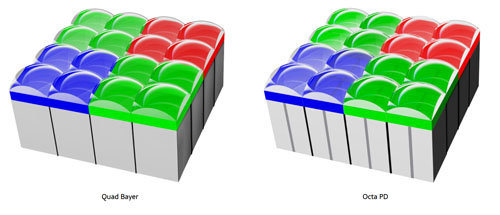 Octa PD is a structure that combines a quad Bayer sensor with Dual PD (Canon's so-called dual pixel) technology, and can realize extremely high-level phase AF regardless of the brightness of the subject.
Since the Octa PD has already been adopted by Sharp's AQUOS R7 and has been put into practical use, it may be only a matter of time before this technology is adopted for larger sensors.