Sony says they are number two on the Full Frame US and Japanese market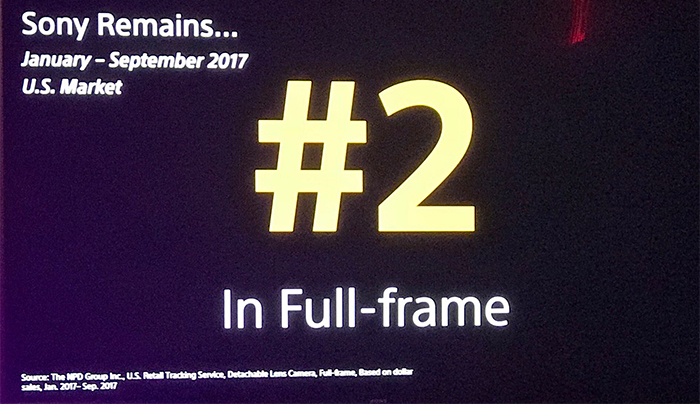 Image courtesy Hugh Brownstone
At Sony A7rIII presentation in new York Sony displayed these images about the US market:
1) Between January and September of 2017 they claimed the second position on the Full Frame market. With the first position likely to be held by Canon and the third position by Nikon.
2) Sony lens sales are up 56% YoY (Year-on-Year) (Jan-Sep 2017 vs Jan-Sep 2016) by value compared to a flat market.
3) Sony Full Frame (35mm) camera sales are up 57% YoY by value, compared to the rest of the market being down 7%.
And at the Sony A7rIII event in Tokyo Sony said the samething for the Japanese market (Source DC.watch):
1) Sony owns 29% market share of the FF system camera market in Japan. That makes place two behind Canon
2) They have a market share of 18% on the overall system camera market in Japan
Join our new Sony a7rIII group if you plan to own this camera!
Preorders (Preorder start October 26 at 10am NYC time):
A7rIII at Amazon, Bhphoto, Adorama.
24-105mm at Amazon, Bhphoto, Adorama.