(SR3) Trusted source says Sigma's first FE lens could be a new 35mm fast prime!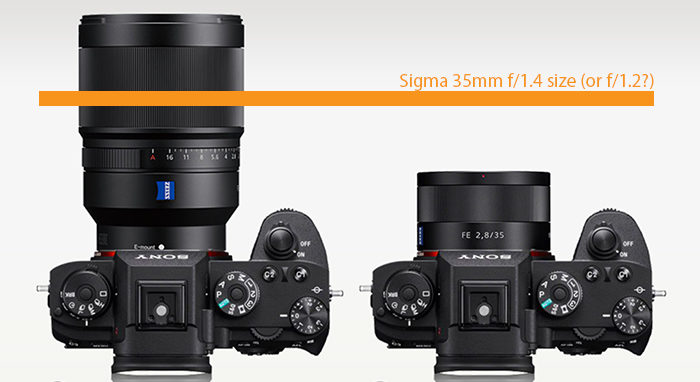 Zeiss 35mm f/1.4 and the Zeiss 35mm f/2.8 via Camerasize
A trusted source (Thanks again!!!) sent me the first info about the new Sigma FE lenses that will be announced this year. He stressed to say that this is not first-hand information and he is yet not sure if it is 100% correct. That's why I ranked the rumor SR3 for now. In short this is what he said
Sigma is preparing the launch of two new lenses
it will be presented faster than we thought!
The first lens is rumored to be a 35mm f/1.4 (or f/1.2) FE autofocus lens. The size will be somewhere in between the current Zeiss 35mm f/1.4 and the Zeiss 35mm f/2.8
The source has yet no info on the second Sigma FE lens but he says it may be a zoom lens
He also added one more info that might be interesting for other mirrorless system owners. It's rumored that these lenses will be available in other mounts too!
Message to the source: Feel free to contact me via email too (create a fake gmail account if you like). That way we can chat on rumors we get.
–
To not miss any rumor quickly subscribe our social network:
RSS feed: https://www.sonyalpharumors.com/feed/
Facebook: https://www.facebook.com/sonyalpharumors
Twitter: https://twitter.com/SonyAlphaRumors
If you have some "rumor" to share just send me an anonymous messages here:
at sonyalpharumors@gmail.com or use the contact form you see on the right top of this site.
Reminder (SR = Sonyrumor):
SR1=probably fake rumor
SR2=rumor from unknown sources
SR3=50% chance it is correct
SR4=rumor from known sources
SR5=almost certainly correct!