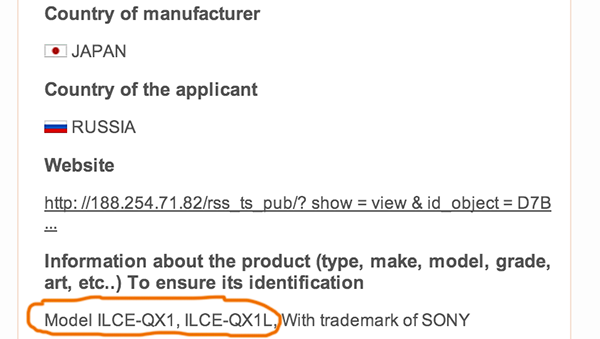 I got this news weeks ago and now we got a proof via the Russian agency Novocert (Thanks Photorumors for spotting this). Sony will launch a new QX E-mount camera. it will be called ILCE-QX1. It's basically a sensor and mount module that let's you fit E-mount lenses on your smart phone or tablet!
I really don't know if there is a market for this :)
P.S.: Photorumors also confirmed the rumor we posted last week. There will be a new 35mm G lens and a 70-300mm f/4.5-5.6G (article here).
—
Message to sources: You can send me more info anonymously by using the contact form you see on the very right of your browser. You can also contact me directly at sonyalpharumors@gmail.com.
For readers: Subscribe the RSS feed (Click here) and Twitter (Click here) stream and the Facebook fan page (Click here) in order to not miss any news!
—
Reminder (SR = Sonyrumor):
SR1=probably fake rumor
SR2=rumor from unknown sources
SR3=50% chance it is correct
SR4=rumor from known sources
SR5=almost certainly correct!