Tamron 17-28mm FE review by Opticallimits: "solid performer"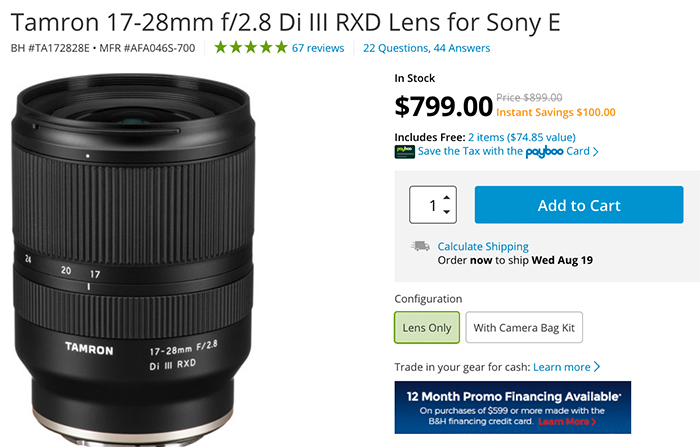 Opticallimits tested the Tamron 17-28mm FE lens and concluded:
The Tamron 17-28mm f/2.8 Di III RXD delivers a quite convincing performance with just a few caveats. Considering its ultra-wide character, it's pretty sharp where it counts the most – the wider settings. The center quality is great and the borders/corners also on a comparatively high level between 17mm and 21mm. Many ultra-wide zoom lenses struggle a bit at their "long" end and the Tamron is no exception in this respect. While the results are good from f/5.6, the outer image field could be better at larger aperture settings here. The native distortion characteristic is very decent for such a lens and there's nothing to worry about with image auto-correction. The vignetting figures are roughly in line with other lenses in this class. Reads: there's some hefty vignetting at f/2.8 in RAW images. Auto-correction eases this is a bit but, a bit surprisingly, Tamron chose a non-aggressive correction profile here so you may still be able to spot some light falloff depending on the shooting conditions. The bokeh has its pros and cons. Out-of-focus highlights are comparatively nicely rendered whereas the overall rendition can be a bit harsh.

Overall, the Tamron 17-28mm f/2.8 Di III RXD is a solid performer. It doesn't excel in any criteria but it does the job and, possibly more important than that, it does so for a reasonable price.
Tamron 17-28mm FE lens at BHphoto, Amazon, FocusCamera, BuyDig and Adorama.