Voigtlander 40mm f/1.2 FE review by SonyAlphaRumors
Note on SAR reviews:
Reviews posted by me (Andrea from SAR) are non-technical. They focus more on the creative aspects of the lens and what you can do with it. All lenses tested are purchased by myself. I got no discount or sponsorship by anyone and I am 100% free to share my own thoughts. All the images posted within this article are copyrighted and found in higher resolution on Flickr, 500px, Twitter and Instagram.
The summary of this review:
The new Voigtlander 40mm f/1.2 FE is lens that I first hated, than loved, than hated again and that somehow accepted it :)
The first challenge of this lens:
Before I bought this lens I actually didn't like it. 40mm is an odd focal length for someone like me used to shoot 50mm. But nevertheless I bought it because of two reasons:
1) I like Voigtlander manual focusing lenses a lot (I do own a couple of M-mount lenses)
2) I liked the challenge of finding what's useful to shoot with a 40mm f/1.2 FE lens
The first hands-on feeling:
Super solid and heavy lens. I love the feel. It feels like owning an old car that has no electronics. Translated this mean it feels it will outlast my life. The lesser electronic something has the longer it lives :)
I love the mechanical focus ring. I dislike Sony's focus by wire where I never have the certainty of "where I am" with my focus. And I like the nice clicking of the aperture ring although in my opinion having 1/3 stop clicks is useless. They should have given us 1/2 stop clicks. With so many click-click-click I am never 100% sure where I am with my aperture.
The first failures:
This image is just one of the many shoots I failed to nail the focus. On moving objects it is a real challenge to work at max f/1.2 aperture.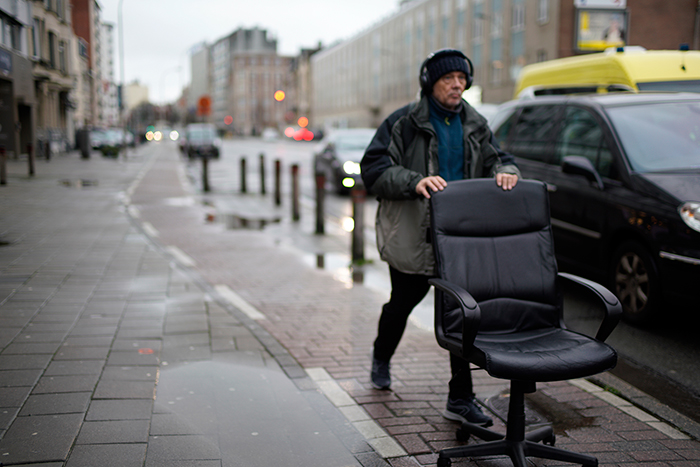 Full size image on Flickr
Tried to focus on the man but I got the focus on the front of the chair. D'oh!
Another initial failure is that I used this lens as it would be a 50mm lens. I ended up to have to crop most of my shots :)
Finding the sweet spot of this lens:
It took me 2 days to understand how to use this lens. This is an example where I nailed the use of this lens. I aligned the frame on the lights of the tram and focused on the only on person that had warm light on his face.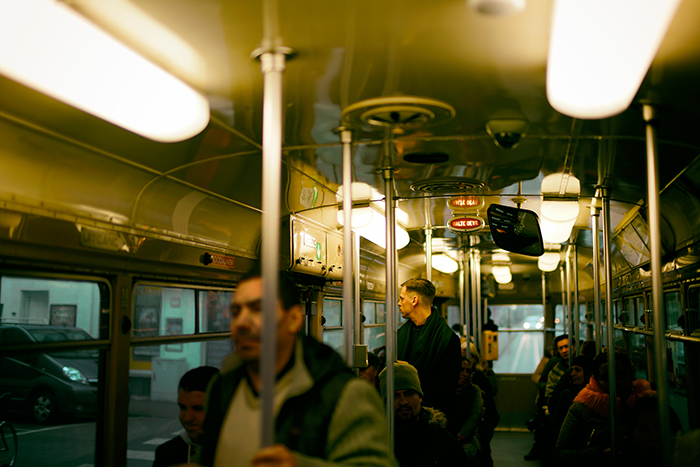 Full size image on Flickr
In that case I found the 40mm focal length perfect. It gives you that sense of space but thanks to the f/1.2 aperture you can select to focus a certain "space within this space".
The repeating failure:
Than I tried once again to use this lens for street photography on moving objects: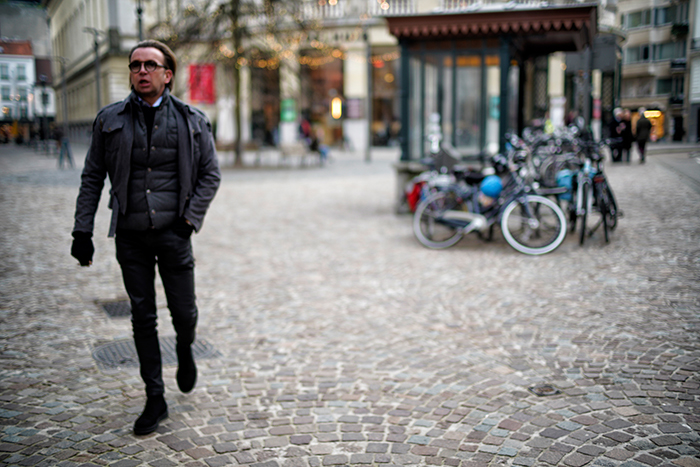 Full size image on Flickr
Big fail again. The only way you can use this on moving objects is just to shoot 10fps on my Sony A7rIII and hoping one of the shots will get sharp. But this is really a lens where you have to give yourself TIME. Stay still, found something that stands still and frame your shot. Than this can takes some excellent images:

Full size image on Flickr
This lens is not made for quick street photography. It's too challenging for that. This is mean for photographers who have time to think and choose. And in some sort this means it forces you to be a better photographer.
The one surprise:
This lens has proved to be an interesting choice for architectural shooting: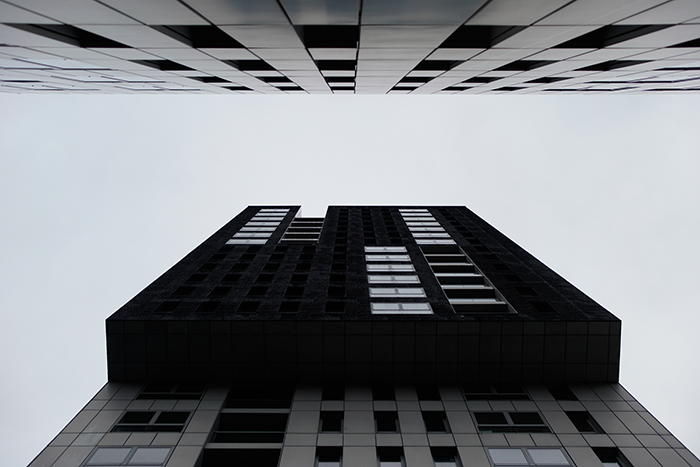 Full size image on Flickr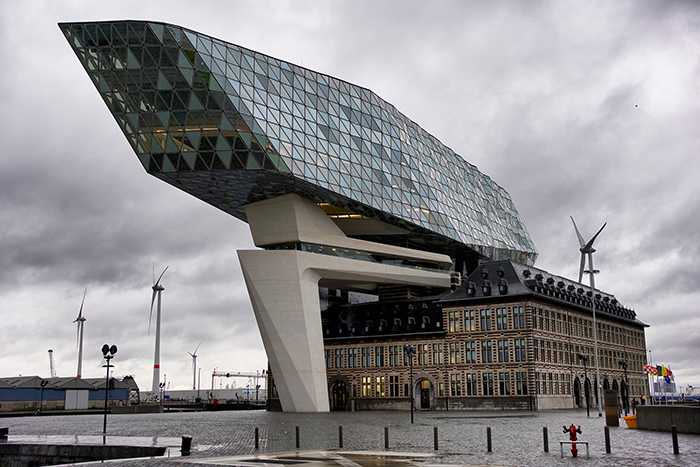 Full size image on Flickr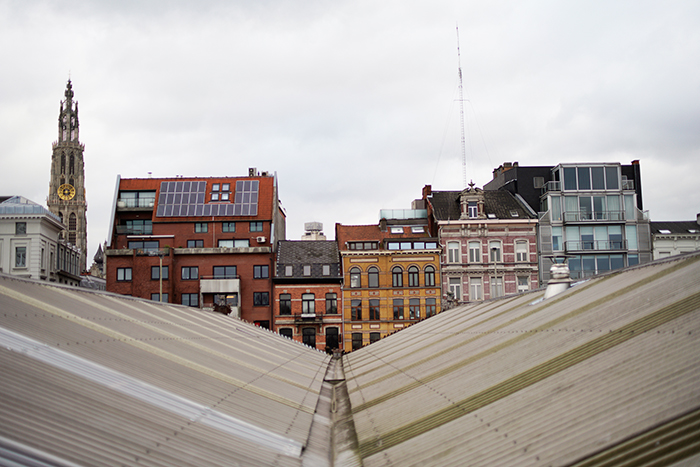 Full size image on Flickr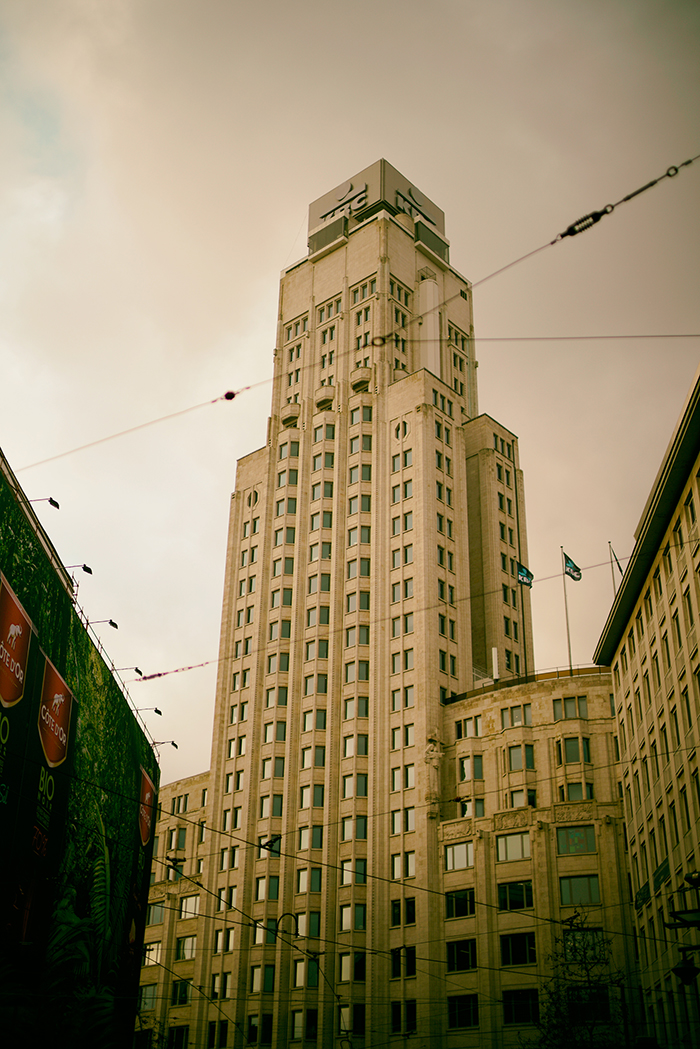 Full size image on Flickr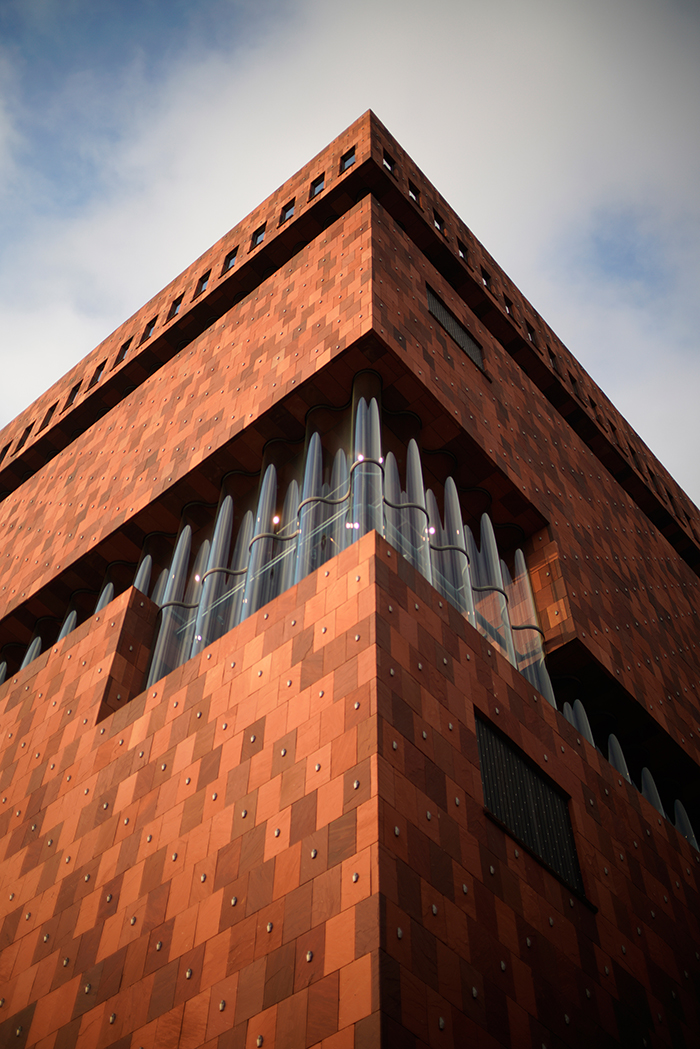 Full size image on Flickr
And here are some Bokeh shots:
This lens has a nice smooth focus transition.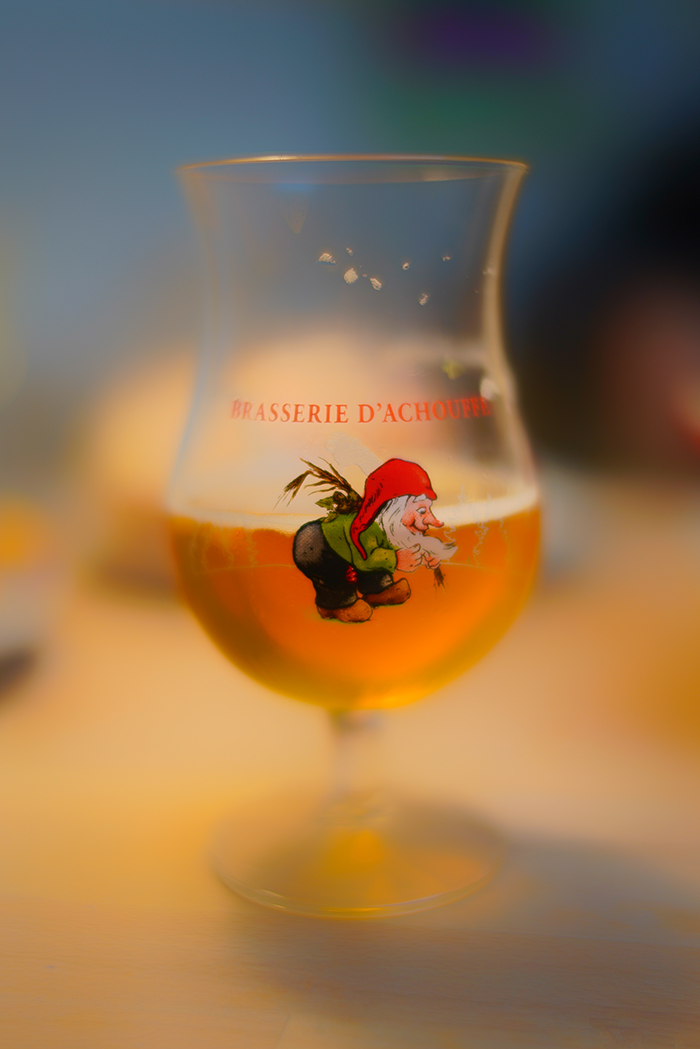 Full size image on Flickr
But there is a but….if you have lights in the frame expect the full palette of "shit" :) Onion rings and cat eye! Of course the way I tested this was extreme:
Technical quality:
The build quality is superb but from a pure Optical performance this isn't an impressive lens. It's not SUPER sharp at f/1.2, it doesn't have that nice bokeh rings, it has some moderate vignetting wide open. But none of these technical flaws was enough to not make me love this lens. And I feel confident using it at f/1.2 aperture as long as your goal isn't to have sharp images across the frame and lovely bokeh. The lens is also clearly NOT made for that kind of photography.
Summary:
The goodies:
– this lens forces you to take time and think.
– 40mm f/1.2 allows you to choose a space within a space. Something you can't easily do with a 50mm lens.
– Good enough at the center of the frame when shooting at f/1.2
– Great build quality and focus ring feeling
The badies:
– challenging lens to use at the beginning. Need some learning curve
– Not a stellar performer like the Voigtlander 65mm macro.
Technical rating: 3.5 stars out of 5
Creativity rating: 4.5 stars out of 5
Would I recommend this lens? If you seek something creative and have the guts for the challenge my answer is definitely YES!
Voigtlander 40mm f/1.2 at BHphoto, Amazon and Adorama.
–
Next lens reviews: I am now testing the Laowa 15mm FE and the 85mm f/1.8 FE. A live testing report can be found on my Instagram channel.