Wild Rumors roundup: A9III, A9s, A7rV and lenses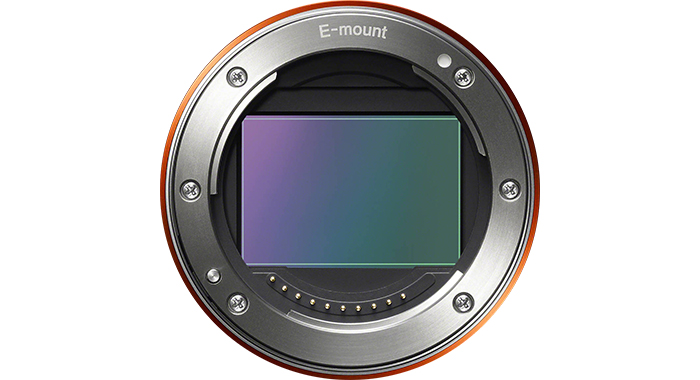 About those rumors: I have no idea who sent them and 90% of the times they turn out to be wrong. But, it happened in the past that a couple of those were right. So I will post them today, and we all together can eventually keep track of this. If one of the sources turns out to be right than we will know we can trust it a bit more!
Source 1: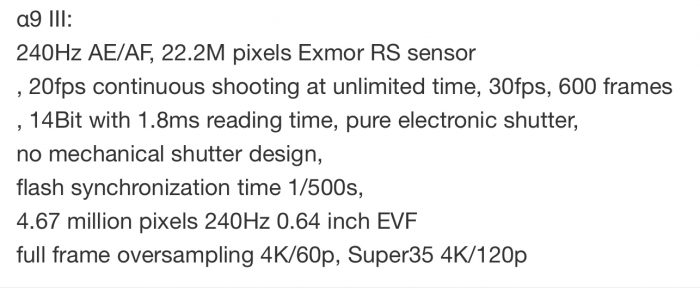 Source 2:
A7 iv = 30MP
A7r5 = 61MP
A7s4 = 40MP
A9s = 20MP
A9R = 100MP
Source 3:
70-300 G , 24-70 G, 16-35 G, 16-70 G
Source 4:
New gossips from China

A7 iv = 30MP
A9 iii = 20MP
A7s iv = 40MP
A7r V = 60MP
A7c ii = 24MP
Source 5:
Sony's New ILCE-9S is Coming for the Olympic Game. It use a 20 megapixels Exmor RS without Mechanism Shutter to achieve 1/500s Flash Sync and 1/600s Readout Time. So It will be the most lightweight sport-camera.
Source 6:
Just saw comment about this today : 300mm F4 G OSS,  200mm F2.8 G OSS,  2x TC
Source 7:
A7rV
£3800/US$3500
BIONZ XR processor
ISO 40-81920 (native 80-32000)
61 million pixels Exmor R sensor
759 points PDAF
real-time tracking eye focus for birds/animals/humans
26 million pixels APS-C Mode
10fps continuous shooting
5.5-speed five-axis image stabilization
9.44 million pixels EVF
2.36 million pixels flip LCD screen
new menu
dual CFE-A/SD compatible card slot
10Bit HEIF photos support
lossless compression RAW photos support
Pixel shift (2 photos/4 photos/8 photos/16 photos) (not yet determined)
16Bit RAW photos in Pixel shift  (not yet determined)
full-frame over-sampling 8K/24p, 4K/24p video,
Super35 over-sampling 4K/30p video
1.24x  crop mode 4K/60p video
XAVC HS/S/SI encoding video color depth up to 10Bit 4:2:2
supports multiple creative modes including S-CineTone
flash sync interface, no full-size HDMI

FF 9.504K Oversampling: 8K,4K/24p
FF 4.752K Binning: 4K/30p
FF 3.168K Binning: HD/24,30,60p
1.24x Crop 3.84K Binning: 4K/60p
1.24x Crop 1.92K Binning: HD/120p
S35 6.336K Oversampling: 4K/24,30p
S35 3.168K Binning: HD/24,30,60p

2) Coding format:

– XAVC HS:
8K: 24p 10Bit 4:2:0
4K: 24/60p 10Bit 4:2:2/4:2:0

– XAVC S:
4K: 24/30/60p 10Bit 4:2:2 / 8Bit 4:2:0
HD: 24/30/60p 10Bit 4:2:2 / 8Bit 4 :2:0
HD: 120p 8Bit 4:2:0

– XAVC SI:
4K: 24/30/60p 10Bit 4:2:2
HD: 24/30/60p 10Bit 4:2:2