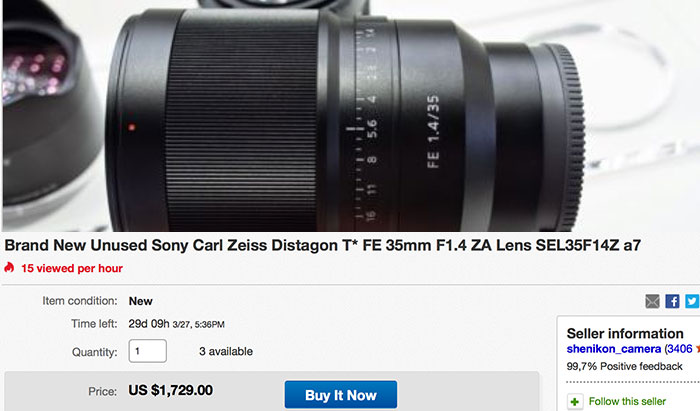 Very surprising to see that. But eBay store Shenikon is already accepting preorders on the new Zeiss FE 35mm f/1.4 lens via their official eBay Store (Click here to see it).
Shenikon writes:
This is a brand new, unused and unopened Carl Zeiss Distagon T* FE 35mm F1.4 ZA Full-Frame Wide Angle Lens. It is made in Sony E Mount for all Sony mirrorless digital cameras. It comes with lens hood, tripod stand, lens case, front cap, rear cap and user manual and all original packaging.
This is a pre-order. Item will be shipped on or before 13th March 2015. If you have any question or want to combine shipments, please feel free to contact us. We look forward to serving you.
I would be surprised to hear that's a mistake made by them. I really do hope this means all four new FE lenses will ship from March 13.