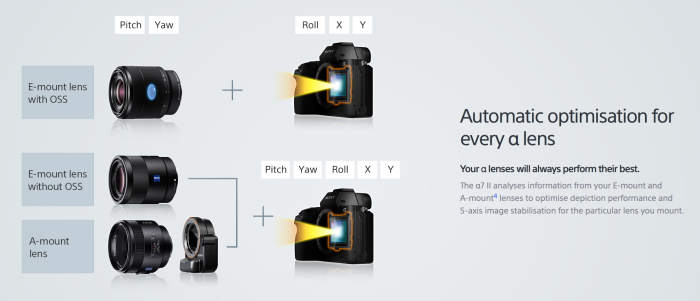 The official Sony.net A7m2 presentation site doesn't say if the Sony sensor stabilization works with third party (non Sony lenses) too. And there is only a footnote for third party adapters used on the A7 with the stabilization system. It says:
When using a third-party mount adapter, performance, functionality and operation are not guaranteed and Sony will take no responsibility if a malfunction occurs.
So it sounds like it actually works for all third party lens and adapter solutions! And here is an interesting image posted on Sonyalphaforum (via DC.watch) which shows how you can manually set the 5 axis stabilization for any focal length!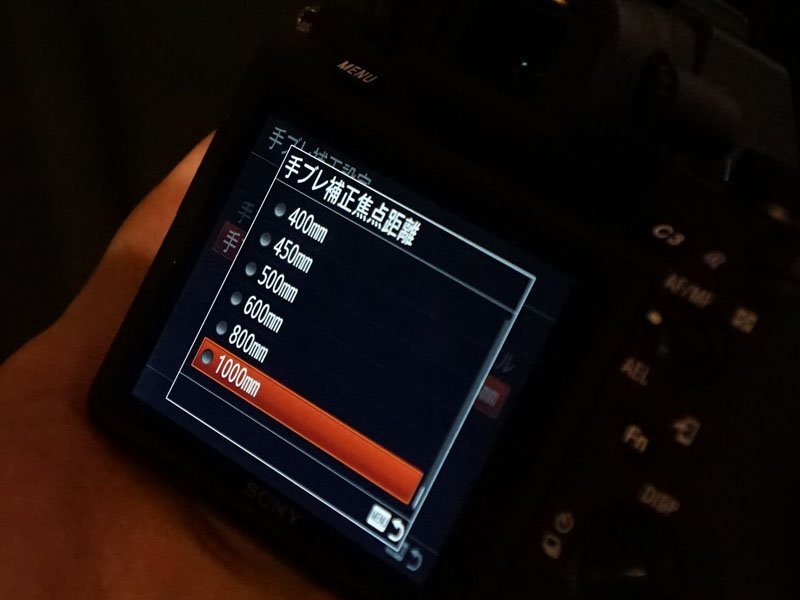 So is the new A7m2 is the holy grail for all manual lens owners?  If that is correct it means for the first time in history owners of lenses like the Leica M, Zeiss ZM, Konica Hexanon, Olympus OM series (and so on and so on) will get fully stabilized lens on a Full Frame camera!
Sony also stated that this 5 axis stabilization is not(!) borrowed from another company (aka Olympus OMD) but is fully proprietary (Source: Digitalcamera). And you gain up to 4.5 stops…CIPA certified(!). Sony said they wanted to include this feature on a "budget FE" camera first to make it quickly available for the mass. We can be 100% sure this is coming on the Sony A9 too (to be announced in January). The stabilization system also works for both stills and video mode! There is a first not so "professional" A7m2 5 axis stabilization test video on youtube. And here is the official Sony video which explains how the 5 axis stabilization actually works:
Sony A7m2:
Worldwide only preorder is at Amazon Japan.
Full spec list and videos on SAR.
Full english A7m2 features list on SAR.
Image samples here on Sony.net.
Real life Images of the A7m2 on SAR.
Triple A-mount lens release:
70-300mm II official release not on SAR.
First images of the 24-70mm II and 16-35mm II A-mount lens son SAR.
A-mount A77M2 firmware:
Coming in December with two great new features (here on SAR).
—-
One more thing:
Sony RX100 now sells for ridiculously low $329 at BigValue on eBay (Click here)
Full Black Friday deals can be seen on at that Amazon US page (Click here to see the long list).