First Sony 90mm FE unboxing reports. Review at SLRgear.

Sony SEL 90mm Macro UNBOXING
The [shoplink 37991 ebay]90mm FE lens is now shipping[/shoplink] and readers are no posting their first unboxing pics and tests. Feel free to comment this post and add your findings and links about the new FE lens!
UPDATE: There is a full lens review at SLRgear. They write:
It's a pricey lens, but right now it's the only E-mount option that works out-of-the-box for macro photography. It might be expensive, but you get an exceptionally sharp lens with some great features – certainly, worth the investment.
90mm links:
In USA at Amazon, Adorama, BHphoto, [shoplink 37938 ebay]eBay US (Click here)[/shoplink].
In Europe at [shoplink 37991 ebay]Fotomundus[/shoplink], Amazon Germany, Sony Germany, Sony UK, Sony FR, Sony IT, Sony ES, Sony NL, Sony BE, Sony AT, Sony CH, Sony SE, Sony FI, Sony NO, Sony PT.
In Asia at Digitalrev, Sony Australia.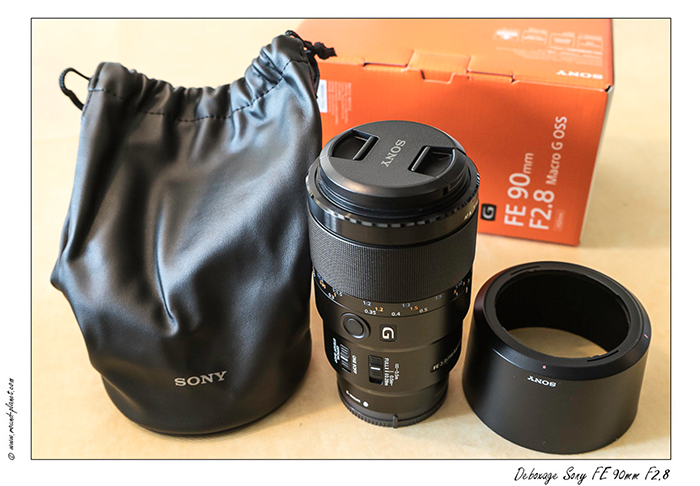 Round Planet (Source: AlphaDXD) sent me this pic: "Just received my brand new Sony 90mm F2.8 in France; a couple of photos and initial feelings on this link: http://www.alphadxd.fr/viewtopic.php?f=158&t=101471"
Robbert: "Today I got the new Sony 90mm f2.8 macro. Some shots are on my flickr account: https://www.flickr.com/photos/robbertvw/"
Mars: "I was very fortunate to be able to shoot with the new 90mm macro lens tonight.  It's very sharp, and renders beautifully. It's also much lighter than it looks. All-in-all a beautiful piece of glass! Some images can be found at my blog site: https://marsweekly.wordpress.com/ (all are portraits shot wide-open with the 90mm and a few other lenses)"
Discussion: Sony 90mm Macro, or Zeiss 85 Batis, which will you be more likely to get? On SonyAlphaForum.