Meikes new vertical grip for the A7II now available in Europe and USA too!
[shoplink 36072 ebay]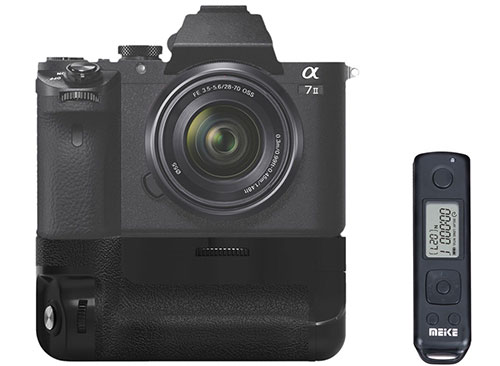 [/shoplink]
Two months ago Meike released the new MK-A7II battery grip for the new Sony A7II. And it's now finally available via European and USA stores too:
Plenty of Asia/European stores are shipping it through [shoplink 36072 ebay]eBay (Click here to see the list)[/shoplink].
In USA it's available at Amazon US (Click here).
Also the A7II Gariz case is in Store via European and US sellers:
In Asia/Europe/USA it's available through [shoplink 36075 ebay]eBay (Click here to see the list)[/shoplink].
In USA it's also available at Amazon US (Click here).
Official product description:

Features:
This is a professional vertical battery grip for Sony Alpha A7 II. It can replace Sony original VG-C2EM Vertical Grip. This Vertical Grip also can hold two NP-FW50 Lithium batteries – effectively doubling your shooting capacity. It provides improved flexibility, not only helps steady your hand in both vertical and horizontal positions, but also provides a stable platform for shooting portraits, still-life shots and other subjects requiring vertical format. This battery grip can provide redundant controls for key functions and a shutter release that is located right at your fingertips when using the camera in the vertical position – eliminating the need for the contorted balancing act often required accessing the camera controls when shooting vertically.
Firmware of camera need to be updated for best performance.
– With vertical-shooting function
– Two lithium batteries can be put into the grip, which make it have double power.
– With AF(auto focus)/MF(manual focus)/AEL(AE lock) functions
– C1 custom function
– C2 custom function
– C3 Custom Function/Amplification Function
– With two wheels which are convenient for operation.
– Provide a vertical grip shutter button, the shutter-lock switch, AF-lock button, AE-lock button, completely supports auto function.
Specifications
Working voltage: 7.2V-8.4V
Working current: less than 3A
Working temperature: -20 C to 70 C
Applicable battery: NP-FW50
Package included
Meike MK-A7II Pro battery grip for Sony A7 II (with battery holder) x 1
User manual x 1 .