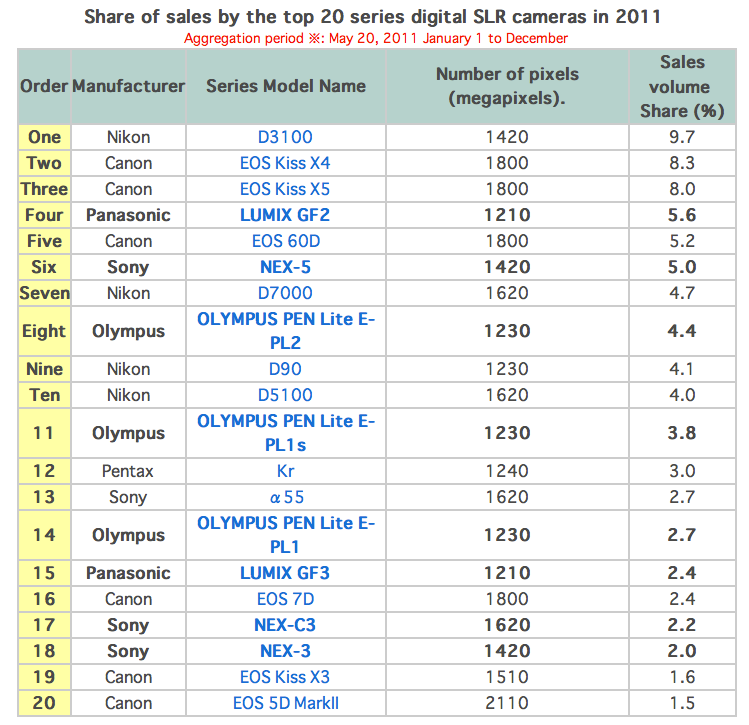 In Japan (and in Japan only) you can get detailed reports about the camera sales. Bcnranking (via 1001noisyc) posted the top 20 of the most sold cameras between January 1st and December 20th. Four cameras are listed on it. The Sony NEX-5 (Pos 6), the Sony A55 (Pos 13), the Sony NEX-C3 (Pos 17) and the Sony NEX-3 (Pos 17). A wonder how that ranking would have looked if the NEX-7 and A77 wouldn't have been stopped by the terrible Thai flood.
It's still a mystery for me why we cannot have such detailed sales reports in other countries too. As you already know the only place I can check to see if a camera is popular or not is the very fluctuating Amazon ranking:
Amazon US ranking (Click here), Amazon DE ranking (Click here), Amazon UK ranking (Click here), Amazon FR ranking (Click here), Amazon IT ranking (Click here), Amazon ES ranking (Click here).
Overall it looks like European and American markets are more "conservative" and less subject to adopt new technologies. The mirrorless and SLT cameras aren't popular as in Japan. But I think cameras like the NEX-7 and the future A99 can slowly change this in "western" countries too. It's time to get rid of that Canon-Nikon duopoly!