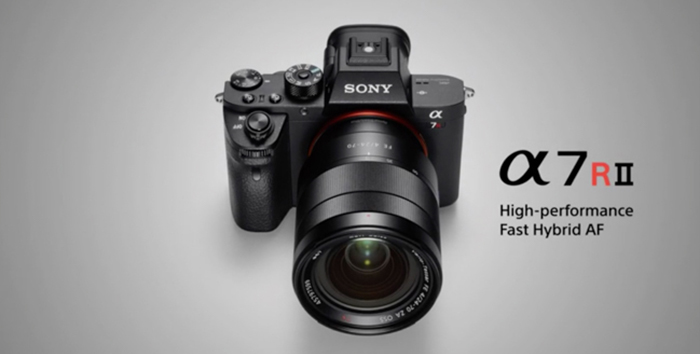 There is a closer look at the Sony a7R II by Dpreview that unveils a couple of interesting info:
1) Something we think is very interesting is Sony's claim that, due to the effective increase in lateral space for the active pixel area from going backside-illuminated (BSI), pixels are able to receive more oblique light rays, which helps with issues like extreme vignetting and color shifts at the peripheries of the image.
The current design in the a7R II should allow for high resolution (small pixels) and the ability to accept very oblique light rays – particularly important for legacy glass that has an exit pupil located very close to the sensor. This ability essentially makes the sensors more 'film like': film avoided many of these issues by having an essentially flat, 2D structure with very little depth.

2) The faster sensor in the a7R II allows it to reset all 42 million photosites fast at the start of the exposure, meaning the mechanical shutter doesn't even need to be used at the start of your exposure.

3) So what's the big deal? Electronic front curtain plus no mirror is the big deal. No moving parts around the sensor means you don't have to worry about keeping your shutter speeds high to make use of the full potential of all of those pixels. And on top of that, you've got in-body image stabilization (IBIS) to stabilize things for you further. And no shutter movement at the beginning of your exposure either, so nothing sudden for the image stabilization system to respond to and make matters worse.

4) Dual-gain implementation like the one found on the a7S exists in the a7R II. This architecture essentially boosts the signal even more, at around ISO 640 on the a7R II (and at 1600 in the a7S), really early on in the signal pathway, to ensure that any noise added by the camera has minimal effect on the (now 'louder') signal. This essentially means increased dynamic range at higher ISOs

5) The Sony RAW compression can limit dynamic range: The posterization artifacts are due to Sony's lossy compression, which you can read more about in Iliah Borg's excellent study here. You'll also see in Iliah's article that this can particularly be an issue with star(trail) shots, which tend to have sharp, high contrast transitions.

6) Sony claims a 40% increase in AF response compared to the original Alpha 7R, in particular because of faster contrast-detect AF, but we actually think this estimate is underselling the capabilities of the a7R II. Considering the accuracy of focal plane AF points, which is far higher than most AF points of DSLRs, the ability of the a7R II to focus quickly and continuously is no small matter.

7) Eye AF is potentially game-changing for wedding photography, newborn photography, and generally photojournalistic and candid photography where you need to react to a subject quickly. Combine this with the focus accuracy of on-sensor AF implementations, and you have a usable way of instantaneously and accurately focusing on the eye of a subject, even at 35mm F2
Really a very interesting contribute from the Dpreview team! And again, a big statement in favour of real lossless 14 bit RAW. I will keep annoying Sony until they will deliver it to us via firmware upgrade
New Forum discussions:
A7RII autofocus test: Commlite and Fotodiox Pro Adapters (SonyAlphaForum).
A7RII Backyard Hostas (SonyAlphaForum).
My Sony A7RM2 First Images From J Cole Forest Hills Drive Tour (SonyAlphaForum).
kingfisher , A7rII + SAL500mm F4 G (SonyAlphaForum).
Cleaning the New SteadyShot Sensor (SonyAlphaForum).
LR vs Capture1 for a7rii – help needed, c1 looks sharper (SonyAlphaForum).
A7rII preorder list:
In USA: at Amazon, BHphoto, Adorama, SonyStore US, FocusCamera, Uniquephoto.
In Europe at Sony DE, UK, FR, IT, ES, NL, BE, CH, AT, SE, FI, NO, PT. Wex UK.
In Asia at Digitalrev, CameraPro.
A7rII case:
Gariz leather case in Black (Click here), Camel (Click here), Orange (Click here), Brown (Click here) and Red (Click here). Also available on Amazon US (Click here).
Gariz Alcantara case in Black (Click here) and Red (Click here). Also available on Amazon US (Click here).
Lim's case in Black (Click here), Brown (Click here), Red (Click here), Yellow (Click here), Navy Blue (Click here) and Khaki (Click here). Also available on Amazon US (Click here).