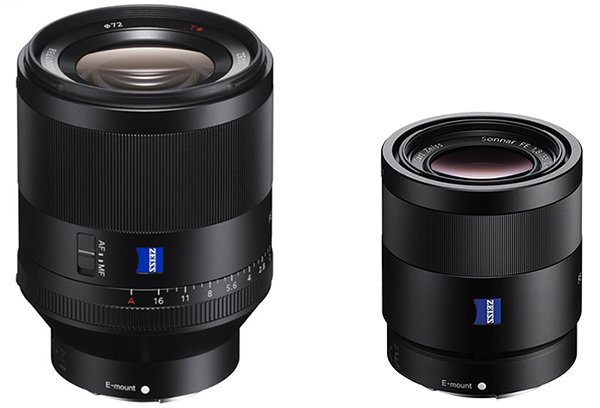 The size comparison between the new 50mm FE and the 55mm FE
Dpreview compared the new Sony FE 50mm F1.4 ZA vs the 55mm F1.8 ZA. When it comes to sharpness they write:
"The new 50/1.4 does not retain this sharpness across the field as well as the 55/1.8, which offers better field uniformity at all apertures. By F2, though, the new 50/1.4 ZA matches the 55/1.8 in central sharpness, and surpasses it at all smaller apertures. Considering the high bar set by the 55/1.8 ZA, this is very impressive."
This goes against Lensrentals tests finding where the new 50mm FE center sharpness was higher than the 55mm FE. That's why Dpreview writes:
"We can't rule out the possibility that our copy of the 50/1.4 slightly under-performed relative to the average, perhaps due to decentering"
So basically we can't be sure about Dpreview scores yet :) The final conclusion is:
It's clear that Sony is trying to cement itself as a real option for pros, and the new FE 50mm ZA helps further that goal. We have no reservations recommending this lens. That said, if you can spend the extra time processing out the axial CA in post, don't mind onion-ring bokeh in out-of-focus highlights, aren't bothered by coma, and don't need the extra isolation or light-gathering capability of F1.4, the 55/1.8 is a compelling alternative that is lighter and cheaper, while offering smooth background bokeh and impressive, if not necessarily much greater, sharpness wide open. It also focuses significantly faster than the 50/1.4.* But for subject isolation that puts medium format to shame, while retaining respectable sharpness and contrast even far off-center wide open (and particularly by F2), the FE 50mm 1.4 ZA is the lens to own.
Zeiss 50mm f/1.4 FE Planar preorders at BHphoto, Amazon, Focuscamera. Calumet.de. Cyberport.de. PhotoPorst. Jessops. WexUK.