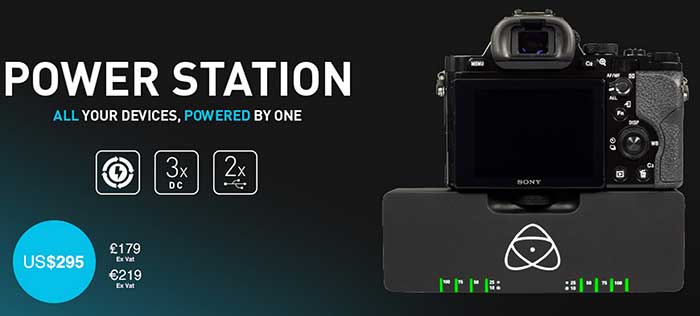 Atomos announced that new Sony A7/r/s compatible power station you can preorder at BHphoto (Click here). It will ship in November for $295. Those are the great features of the power station: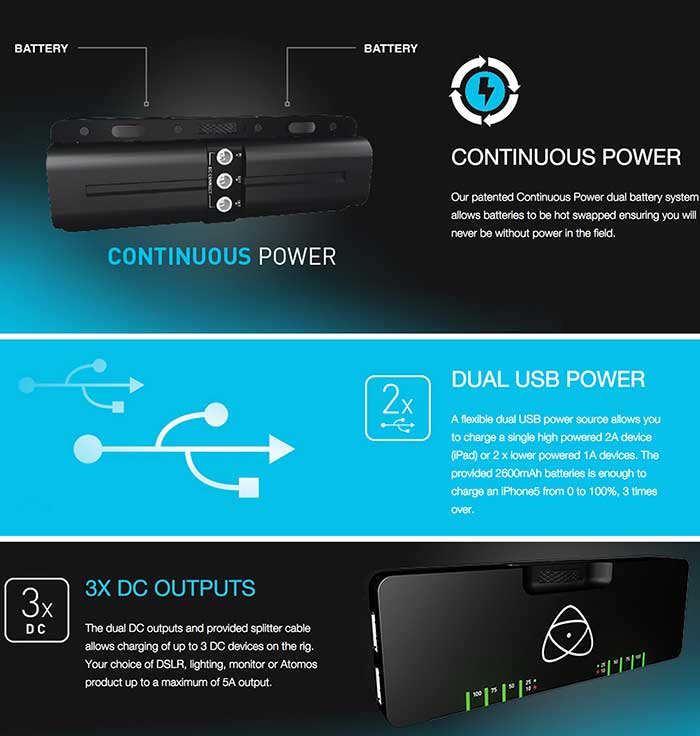 Here is the full description:
The Atomos Power Station is a dual battery system for powering your camera and additional devices in the field. It mounts underneath your camera using a 1/4″-20 screw with thumbwheel and features slots for two Sony L-series type batteries. Two DC outputs and an included splitter cable allows powering of up to three devices, such as an LED light, a monitor, and a recorder. Optional DC adapters are available to provide power to popular cameras. And because batteries are hot-swappable, you can replace batteries on-the-fly without losing power to your devices.
In addition to the two DC power outputs, the Power Station also features a flexible dual USB power source which can power can power two USB devices, or one high-powered 2A device, such as an iPad. Two 2600 mAh batteries come included, which can charge an iPhone 5 from 0 to 100% three times. To monitor the power remaining on your attached batteries, there are independent left and right LED displays on the front of the Power Station, providing a quick 5-step guide from 100% to 10% battery life.
Dual battery system
Compatible with Sony L-series batteries; optional adapters available for Nikon EN-EL15 or Canon LP-6 batteries
Batteries are hot-swappable
1/4″-20 Camera screw
Dual DC power outputs provide 8.2 V, 5A power on DC input power, and 6.2 to 8.4 VDC on battery power
Splitter cable to powering two devices from single DC output
Optional DC adapter cables available for popular cameras
Dual 5V DC USB power outputs; charge a single high-powered 2A device or two 1A device
Independent 5-step battery level meters
Includes two 2600 mAh batteries
Works with Atomos monitor/recorders
Get it at BHphoto (Click here) or MotionMedia (Click here).